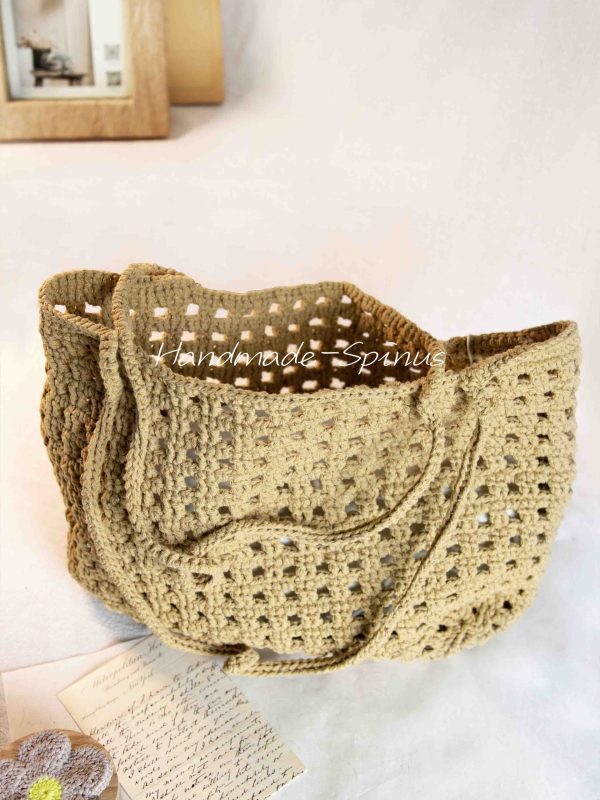 Waffle Crochet Large Knit Bag
$70.00
Handmade Crochet Art
*Please register and log in first before placing an order for checkout. If you need a coupon, please contact customer service.
The surface presents an interlocking concave and convex lattice shape.
Brings a unique texture and visual effect.
Presenting a grid-like structure.
You can order on our Etsy store: Handmade-Spinus
A waffle element is a geometric pattern with a diamond, prism or square as the basic pattern. It usually consists of crossed lines or continuous lines that form a grid-like structure. The waffle element is very common in textile design and can be used in pattern design for a variety of fabrics and knits, including crocheted large bags. It is a type of backpack that is knitted or crocheted using crochet hooks. This kind of bag is usually made using crochet hooks and materials such as silk and wool yarn. In the design, waffle elements can be used to create a variety of interesting patterns and textural effects that make the large bag more unique and appealing.
A variety of styles and looks can be achieved by adding waffle elements to crocheted large bag designs. Waffle elements can be used to form geometric patterns such as diamond grids, squares or diagonal lines, or they can be used to form organic shapes such as flowers and leaves. These patterns can be further enhanced by changing the color, thickness and texture of the lines.
The waffle elements of crocheted large bags can be presented in a variety of ways, such as covering the bag as a whole, as edge decoration, set in specific areas or combined with other patterns. Designers can combine waffle elements with other crochet techniques and materials to create unique large bag designs according to their own creativity and preferences. Whether in classic black and white, colorful, or monochromatic waffle elements, crocheted large bags can be a fashionable accessory thanks to their gorgeous patterns. They are both practical and artistic, and can be adapted to a variety of occasions and styles.
Waffle elements can offer endless creativity and possibilities in crochet large bag designs. They add a unique visual effect and texture to the large bag, making it a striking fashion item. Whether you are a craft lover or a fashion follower, crochet large bags with waffle elements are worth checking out.
Material: High quality brand Komori yarn, 80% coarse cotton, 20% polyester to increase the tension, lusterless, inelastic, not easy to deformation, can bear the weight.
According to the characteristics of each bag, different thicknesses of yarn are selected so that each bag can present the most beautiful state.
Size: about 40cm*H28cm
Notes:* Products are pure hand crocheted ornaments, each piece will be a little different, and may even have a small thread, but this is the charm of handmade ornaments, such as those who care, please do not place an order.
* Products are made to order, there is a production cycle, the delivery period is generally 5-7 days.
* Fabric can not be completely waterproof, please ensure that hands are clean before taking. If there is a small stain can be used cotton swab with a small amount of water to do cleaning.
*Your support is the driving force of our progress, thanks for meeting.
We can speak freely about our preferences here.
We have professional sharing.We follow the principle of sharing without borders. We look forward to your participation.
| | |
| --- | --- |
| Weight | 0.8 kg |
| Dimensions | 40 × 28 cm |