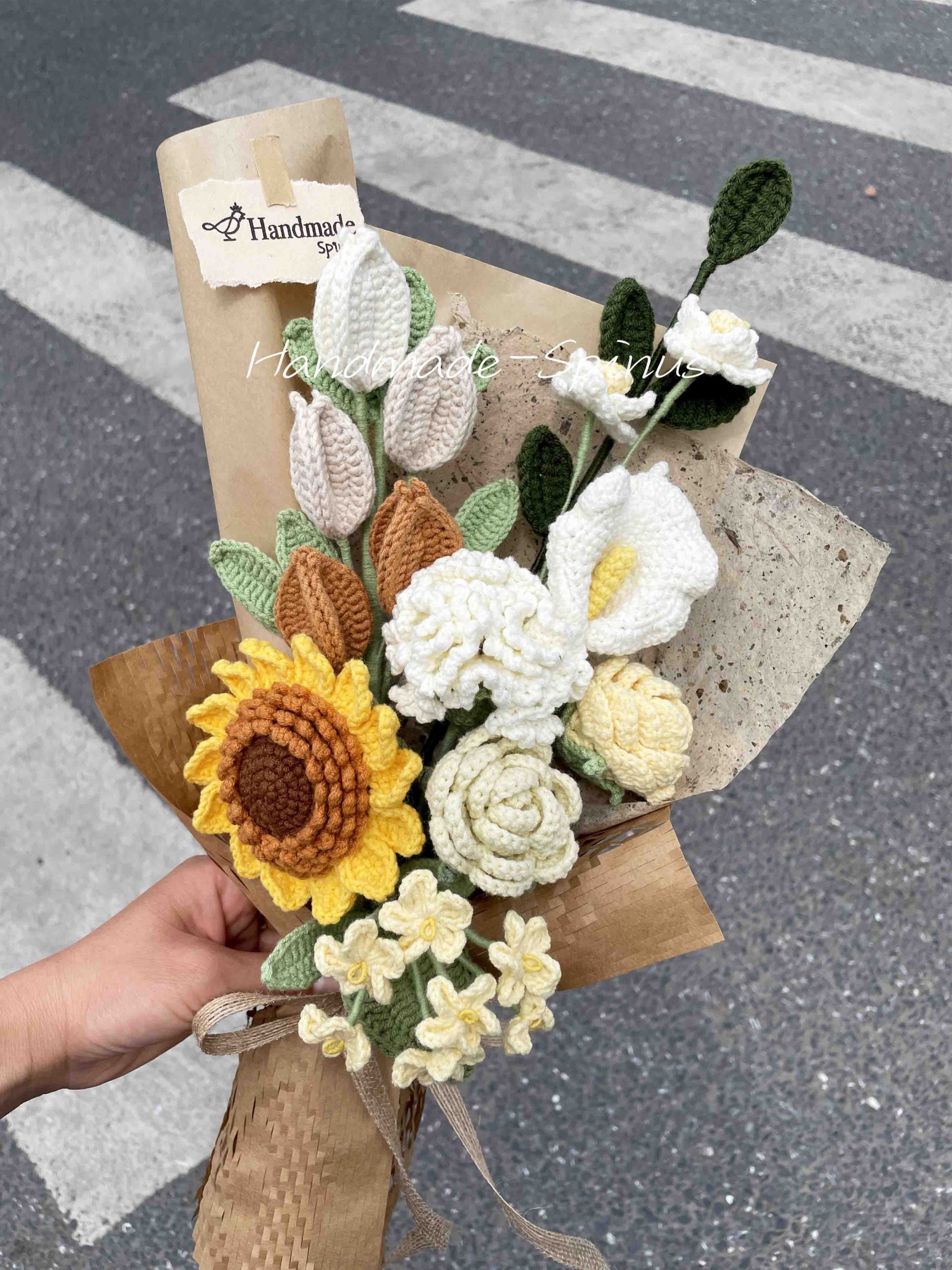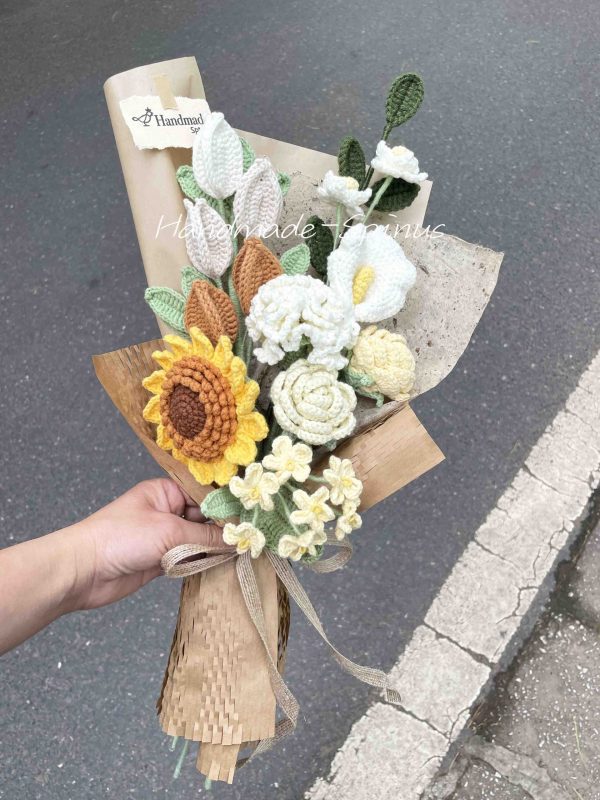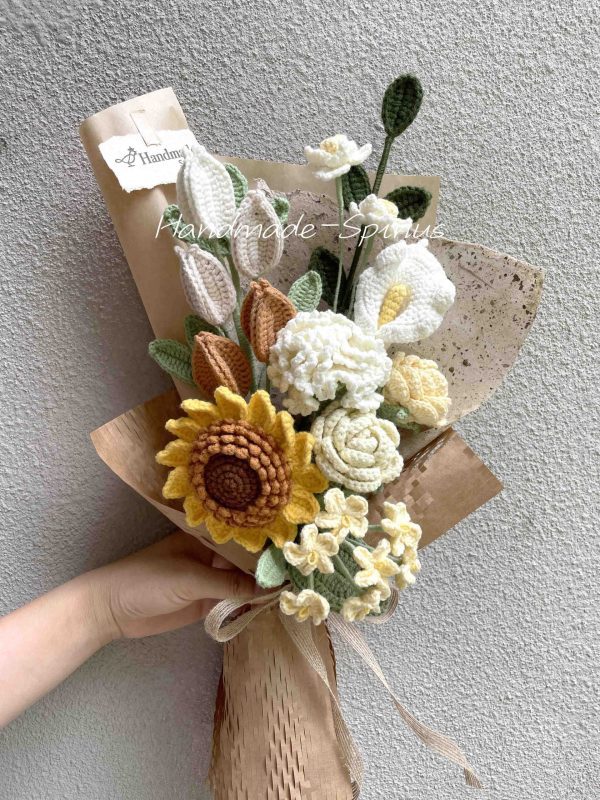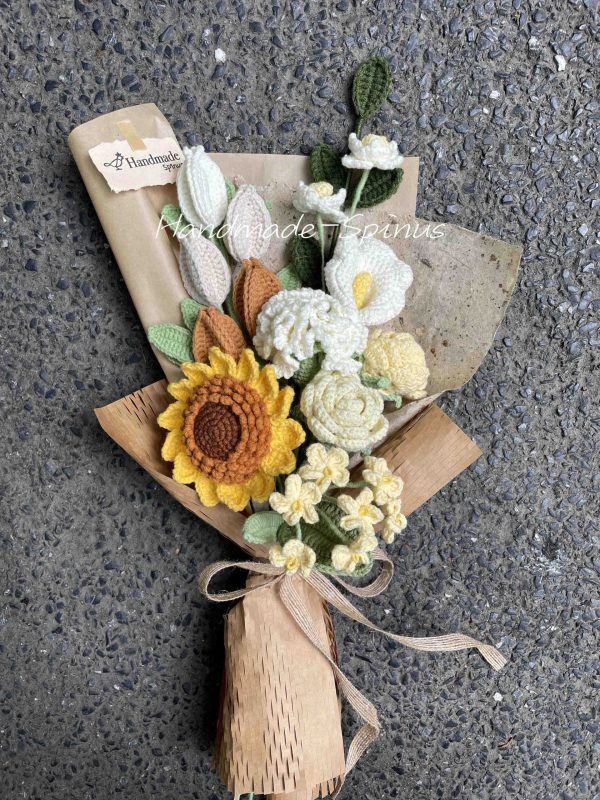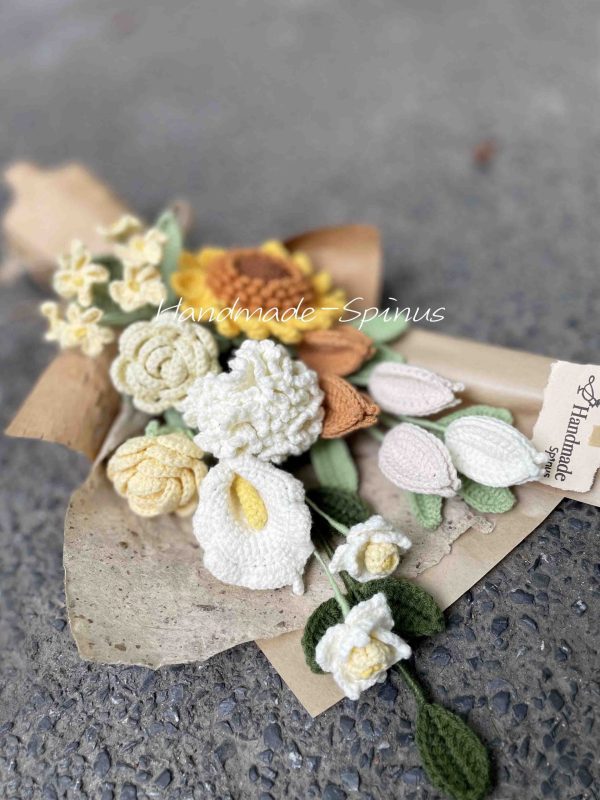 Sunflower Luan Fruit Crochet Knit Bouquet
$71.00
Handmade Crochet Art
*Please register and log in first before placing an order for checkout. If you need a coupon, please contact customer service.
Lazy summer days.
The afternoon sun.
Natural habitat.
You can order on our Etsy store: Handmade-Spinus
A bouquet is a beautiful work of art that showcases the gorgeous colors of nature and human creativity. The Sunflower Luan Fruit Crochet Bouquet, however, is a stunning creation with its unique charm, blending the beauty of nature with handcrafted art. Such bouquets are made from sunflowers and luan nuts as the main plant material and are knitted together using crochet techniques. The sunflower is a symbol of sunshine, with its bright yellow flowers and large green leaves exuding energy and warmth. Luan fruits, on the other hand, are small and charming fruits with unique shapes that add a touch of richness to the bouquet.
Through clever crochet techniques, the crochet artisan creates a tight and structured bouquet shape. This handicraft technique requires not only skill and patience, but also the creativity and unique imagination of the artist. Each crocheted bouquet is unique, showing the creator's understanding and expression of nature and beauty.
The Sunflower Luan Fruit Crochet Bouquet not only shows the beauty of nature, but also incorporates the creator's emotion and love. By adding other elements such as flowers, leaves or ribbons, the bouquet's layering and decorative effect is further enhanced. Whether used as an interior decoration or as a gift, such a bouquet brings a unique beauty and a warm atmosphere.
In addition to its beautiful appearance, the Sunflower Luan Fruit Crochet Bouquet also carries a deep meaning. Sunflowers symbolize hope, loyalty and love, while luan tree fruits represent the vigor and vitality of life. Combining the two, the bouquet conveys a positive spirit and a love of life. Whether given to family and friends or enjoyed by oneself, it brings joy and inspiration, giving a sense of the magical power of nature and the intention of its creators.
In this fast-paced and digital age, the Sunflower Luan Fruit Crochet Bouquet offers a way to get closer to nature. It takes us back to the pure, natural source and allows us to feel the beauty and power of nature again. Such a bouquet is not only a decoration, but also a soothing and inspirational source for the soul. Each crochet step requires the artist's meticulous attention to detail, so that each sunflower and each luan tree fruit can be presented in the best possible way. This creative process itself is also a form of meditation and relaxation, allowing one to find peace and inner tranquility from the busy life.
The Sunflower Luan Fruit Crochet Bouquet is a tribute to the natural world and a cherished art of handcraft. It not only shows the beauty of nature, but also conveys the harmonious coexistence of man and nature. It evokes our reverence for nature and inspires our sense of responsibility to protect the environment and cherish ecology.
Whether gifted to friends and relatives, used as decoration for celebrations or for special occasions such as weddings and parties, sunflower luan fruit crochet bouquets will be a beautiful sight to behold. Their uniqueness lies in their distinctive appearance and far-reaching connotations, which enable people to rethink the definition of beauty and the experience of aesthetics, demonstrating the harmonious coexistence of humans and nature. They represent a celebration of life, hope and creativity, and at the same time remind us of the importance of cherishing nature and protecting the environment. Let's appreciate and cherish these unique bouquets and let them bring us endless beauty and inspiration.
Material: Made of high quality brand milk cotton, the fabric is delicate and textured.
According to the characteristics of each flower, different thicknesses of yarn are selected so that each flower can be presented in the most beautiful state.
Size: about 50cm * 20cm * H12cm
Notes:* Products are pure hand crocheted ornaments, each piece will be a little different, and may even have a small thread, but this is the charm of handmade ornaments, such as those who care, please do not place an order.
* Products are made to order, there is a production cycle, the delivery period is generally 5-7 days.
* Fabric can not be completely waterproof, please ensure that hands are clean before taking. If there is a small stain can be used cotton swab with a small amount of water to do cleaning.
*Your support is the driving force of our progress, thanks for meeting.
We can speak freely about our preferences here.
We have professional sharing.We follow the principle of sharing without borders. We look forward to your participation.
| | |
| --- | --- |
| Weight | 0.4 kg |
| Dimensions | 50 × 20 × 12 cm |