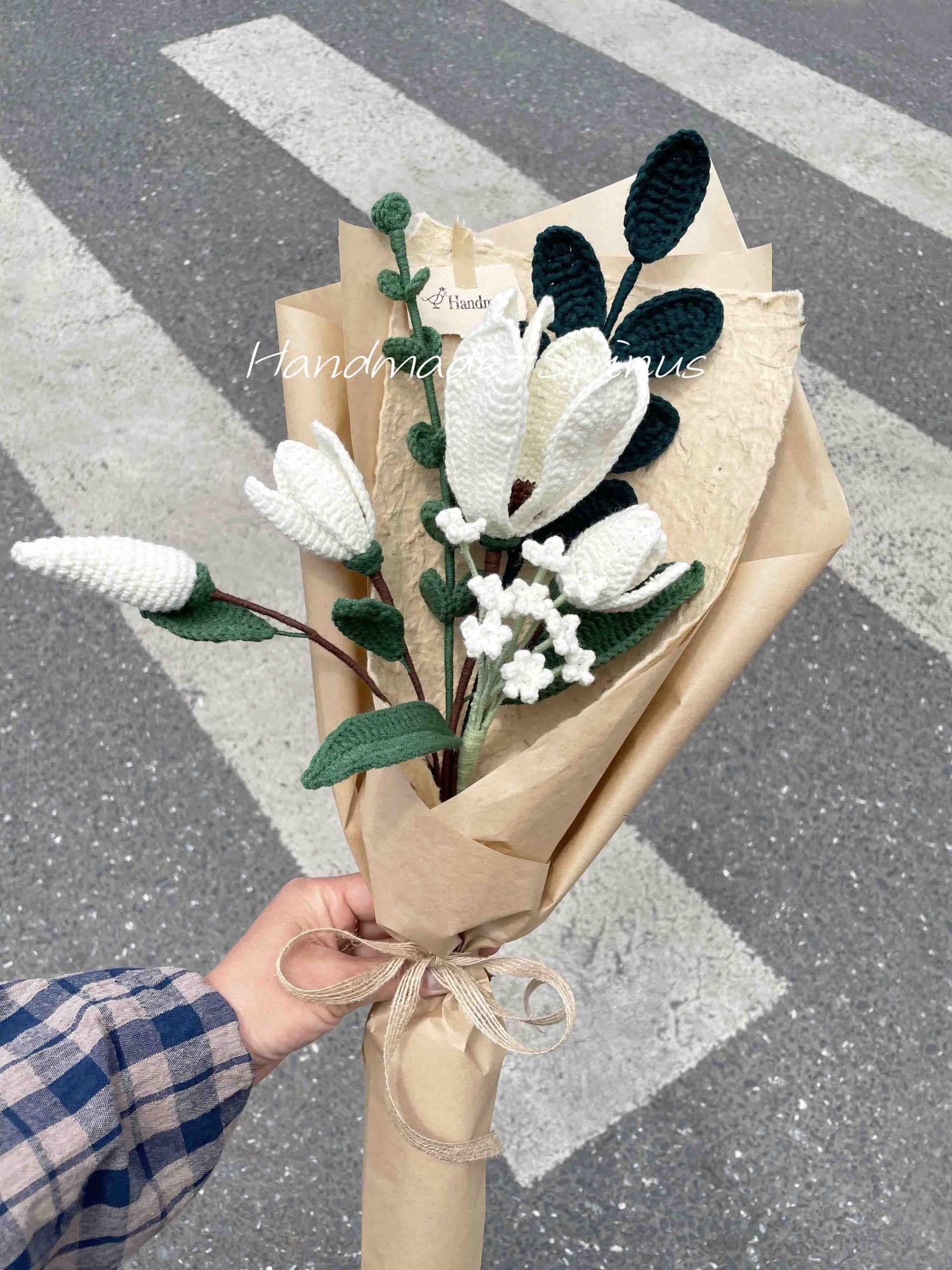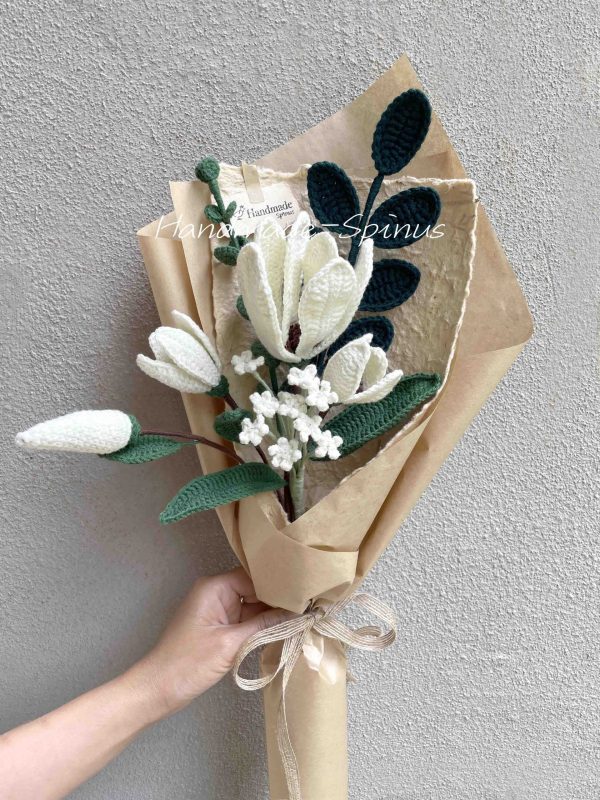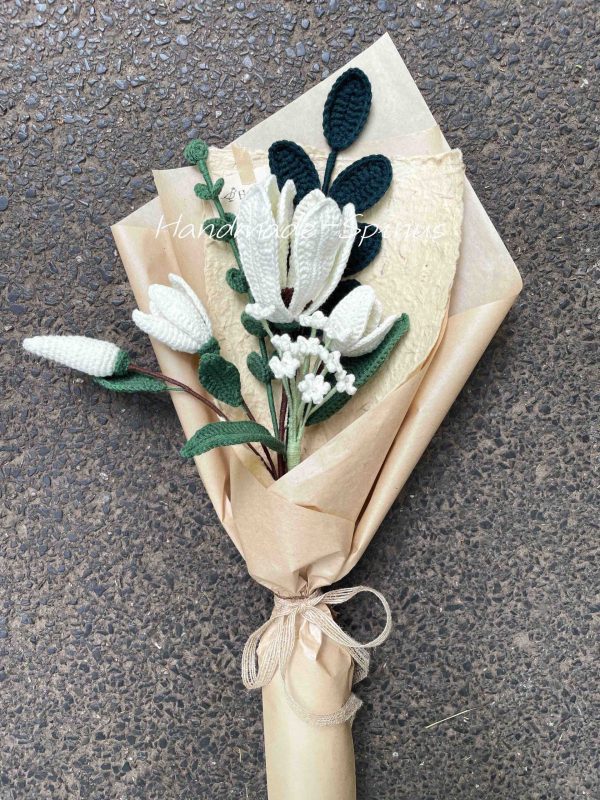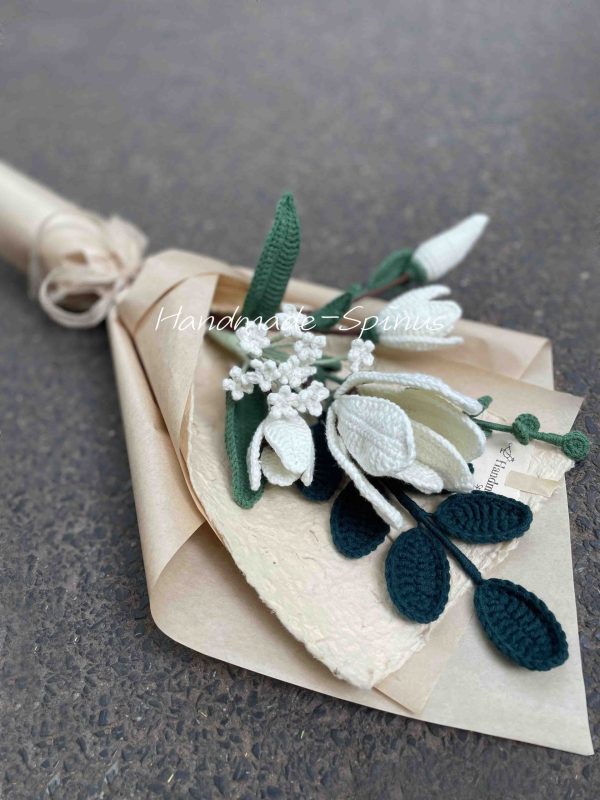 White Magnolia Crochet Knit Bouquet
$42.00
Handmade Crochet Art
*Please register and log in first before placing an order for checkout. If you need a coupon, please contact customer service.
Purity of white.
Purity and elegance.
Art of elegance.
You can order on our Etsy store: Handmade-Spinus
Magnolia is an elegant and noble flower, which is famous for its white petals and fragrant fragrance. And combining the beauty of Magnolia with the art of crochet to create the Magnolia Crochet Bouquet is not only an artistic creation, but also a perfect presentation of the beauty of purity and nobility. With its exquisite craftsmanship and delicate materials, it reproduces the unique beauty of Magnolia flowers. Each bouquet is meticulously designed and crocheted by the artist, showing the elegance and grace of Magnolia through the skillful weaving of thread and crochet. The delicate petals, delicate stamens and soft stems, every detail is meticulously rendered by the artists to make the Magnolia crochet bouquet more realistic and vivid.
It is not only an imitation of the flower form, but also an expression of the artists' emotions towards the Magnolia flower. Each bouquet contains the artists' perceptions and creative ideas, and speaks of praise and admiration for the beauty of nature through threads and crochet hooks. They show the nobility and purity of Magnolia flowers, and at the same time convey people's aspiration for beauty and warmth. Compared to flowers, Magnolia crochet bouquets do not fade and can remain beautiful for a long time. Whether as an indoor decoration or as a gift for friends and family, Magnolia crochet bouquets bring lasting beauty and warmth. In addition, the flexibility of the art of crochet makes Magnolia crochet bouquets malleable, allowing the designer's creativity and imagination to create bouquets of different shapes, colors and styles to meet individual needs.
Magnolia crochet bouquet is not only a kind of decoration, but also a way to send emotions and express blessings. Giving a Magnolia crochet bouquet to a loved one, friend or lover not only conveys blessings and care for them, but also expresses praise for their purity and noble qualities. Magnolia crochet bouquets represent purity, elegance and grace, and they can be the perfect gift for special occasions, such as weddings, birthdays, Mother's Day and more. Whether received or given, a Magnolia crochet bouquet can bring a beautiful resonance and touch in the heart.
It has an important symbolic meaning in many cultures, representing purity, nobility, friendship and love. Through the presentation of the art of crochet, Magnolia Crochet Bouquet conveys these symbolic meanings to the viewer and recipient, so that they can appreciate and possess them while feeling inspired and touched by these beautiful qualities. Crochet hooks and threads become the artists' tools for expressing emotions and conveying beauty. With crochet hooks in their hands, they weave the threads into a delicate flower, presenting the unique charm of Magnolia through delicate techniques and clever ideas. This process is not only a creative act, but also a communication and resonance between the artists and the Magnolia, making the artistic creation full of emotional power and warm meaning.
Magnolia crochet bouquets are a perfect combination of art and nature, and they express the beauty of purity and nobility while bringing people a sense of enjoyment and appreciation of art. Whether as an ornamental decoration or as a gift, Magnolia crochet bouquets can bring people a sense of beauty and pleasure. Let us immerse ourselves in the world of Magnolia crochet bouquet, feel the beauty of pure and noble art, and let this beauty accompany our life forever.
It can also bring us inner peace and tranquility, and when we bet our eyes on these exquisite crocheted flowers, they will evoke deep inner peace and beauty. The purity and noble charm emanating from the white magnolia crochet bouquet gives people a sense of inner peace and tranquility. No matter where or when we are, with a Magnolia crochet bouquet, we are able to free ourselves from the clutter of the world and find inner peace and ease.
Material: Made of high quality brand milk cotton, the fabric is delicate and textured.
According to the characteristics of each flower, different thicknesses of yarn are selected so that each flower can be presented in the most beautiful state.
Size: about 50cm * 20cm * H12cm
Notes:* Products are pure hand crocheted ornaments, each piece will be a little different, and may even have a small thread, but this is the charm of handmade ornaments, such as those who care, please do not place an order.
* Products are made to order, there is a production cycle, the delivery period is generally 5-7 days.
* Fabric can not be completely waterproof, please ensure that hands are clean before taking. If there is a small stain can be used cotton swab with a small amount of water to do cleaning.
*Your support is the driving force of our progress, thanks for meeting.
We can speak freely about our preferences here.
We have professional sharing.We follow the principle of sharing without borders. We look forward to your participation.
| | |
| --- | --- |
| Weight | 0.4 kg |
| Dimensions | 50 × 20 × 12 cm |