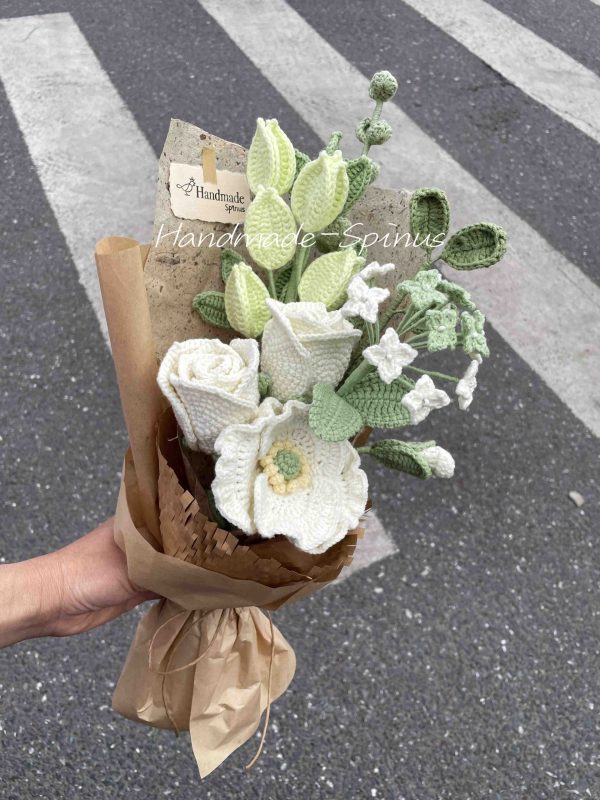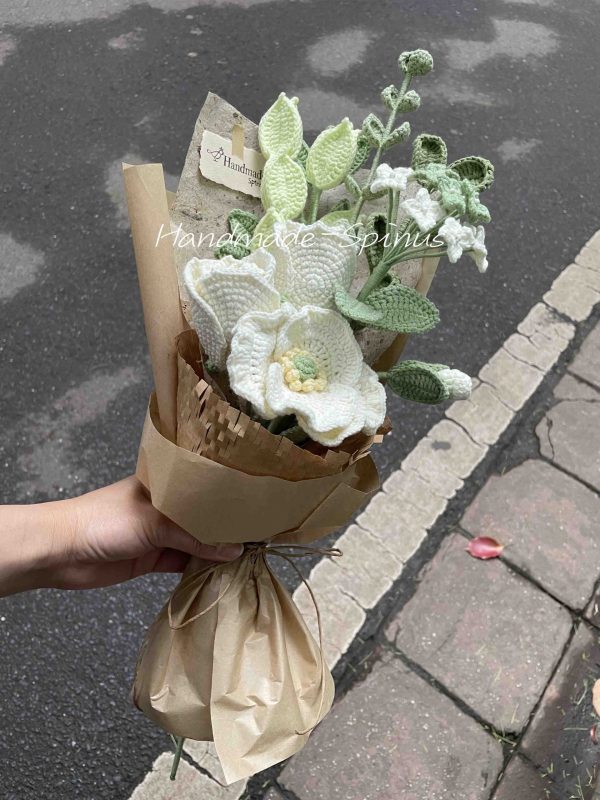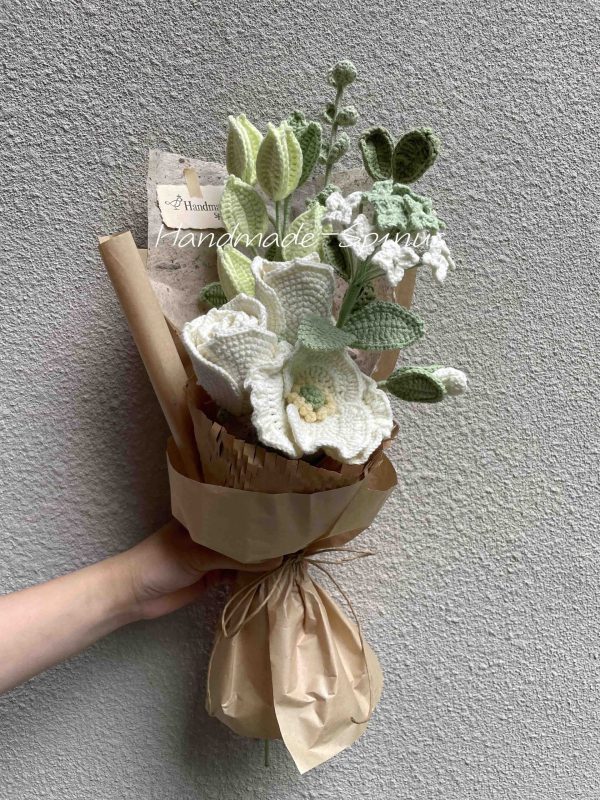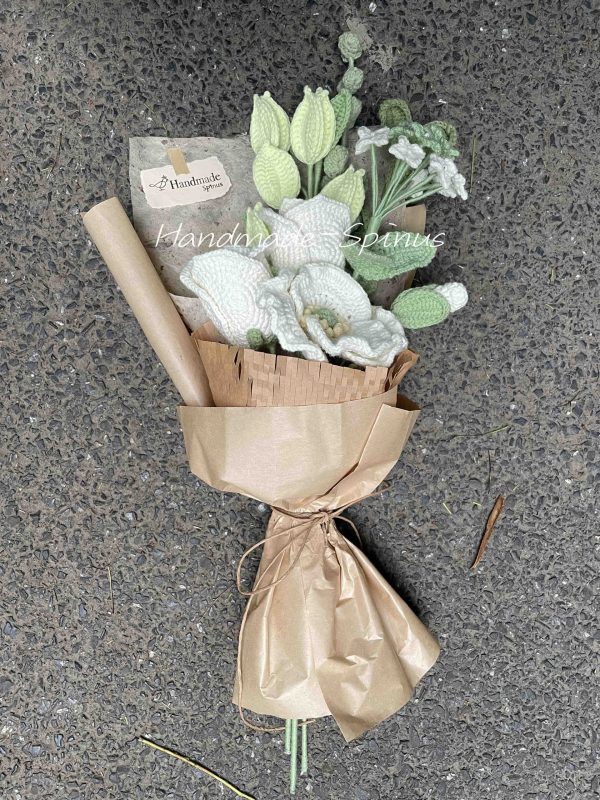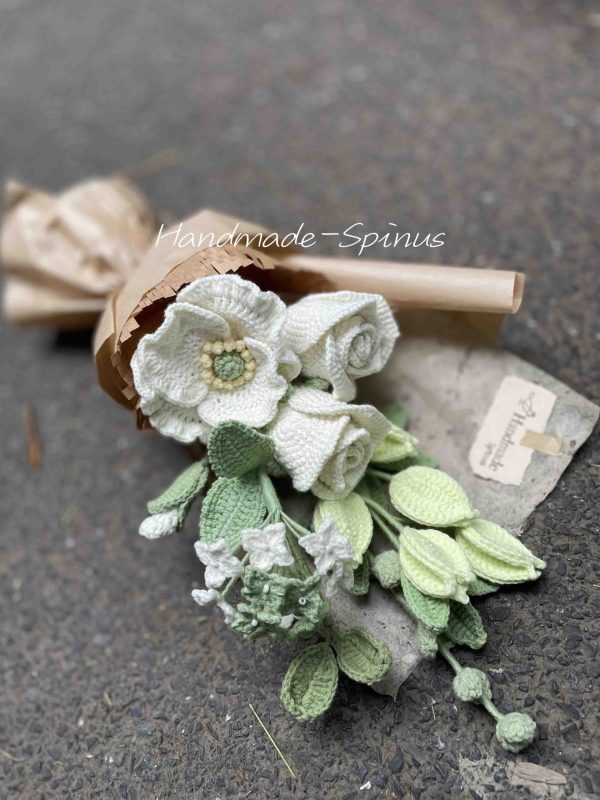 Yellow+Green – The Taste Of Early Summer Crochet Knit Bouquet
$64.00
Handmade Crochet Art
*Please register and log in first before placing an order for checkout. If you need a coupon, please contact customer service.
Yellow-green color of early summer.
Shining like emerald.
Refreshingly magical presentation.
You can order on our Etsy store: Handmade-Spinus
Luan trees over like real flowers blooming in the sunlight, like the brilliant sunlight in the early summer morning, exuding warmth and vitality. I crocheted the lush foliage with yellow-green wool, intertwining the flowers with the green leaves, as if the natural environment of Luan fruit flowers were on display before my eyes. The entire crocheted bouquet slowly took shape, with the freshness of the Luan fruit intertwined with the smell of early summer, creating a unique visual and sensory experience. The bouquet emits a light scent of luan fruit, as if you are in the middle of a luan grove and feel the embrace of nature.
This Luan Fruits – A Taste of Early Summer crochet bouquet is not just a decoration, but a celebration of nature and life. Each crocheted flower is knitted with the heart, and each stitch is an expression of reverence and gratitude to nature. This bouquet conveys a tribute to freshness, nature and vitality, and gives a sense of the beauty and hope of early summer.
Send this Luan Fruit – A Taste of Early Summer crochet bouquet to a loved one or friend, whether celebrating a birthday, a wedding or other important occasion, to convey our love and blessings to them. The bouquet contains the power of nature and freshness, bringing a sense of peace and joy to people and making them feel the beauty and warmth in their lives.
This Luan Fruit – Taste of Early Summer crochet bouquet is a tribute to nature, showing its beauty and charm with the art of knitting needles and wool. Whether placed on a tabletop at home or given as a gift to others, it brightens up the corners of life and brings a natural and refreshing atmosphere.
Let's enjoy this Luan fruit – early summer flavor crochet bouquet and let the freshness and warmth of it accompany us through the beautiful time of early summer. Let the art of crochet and the inspiration of nature intertwine, so that we can find a piece of peace and nature in our busy lives.
Material: Made of high quality brand milk cotton, the fabric is delicate and textured.
According to the characteristics of each flower, different thicknesses of yarn are selected so that each flower can be presented in the most beautiful state.
Size: about 50cm * 15cm * H12cm
Notes:* Products are pure hand crocheted ornaments, each piece will be a little different, and may even have a small thread, but this is the charm of handmade ornaments, such as those who care, please do not place an order.
* Products are made to order, there is a production cycle, the delivery period is generally 5-7 days.
* Fabric can not be completely waterproof, please ensure that hands are clean before taking. If there is a small stain can be used cotton swab with a small amount of water to do cleaning.
*Your support is the driving force of our progress, thanks for meeting.
We can speak freely about our preferences here.
We have professional sharing.We follow the principle of sharing without borders. We look forward to your participation.
| | |
| --- | --- |
| Weight | 0.5 kg |
| Dimensions | 50 × 20 × 12 cm |