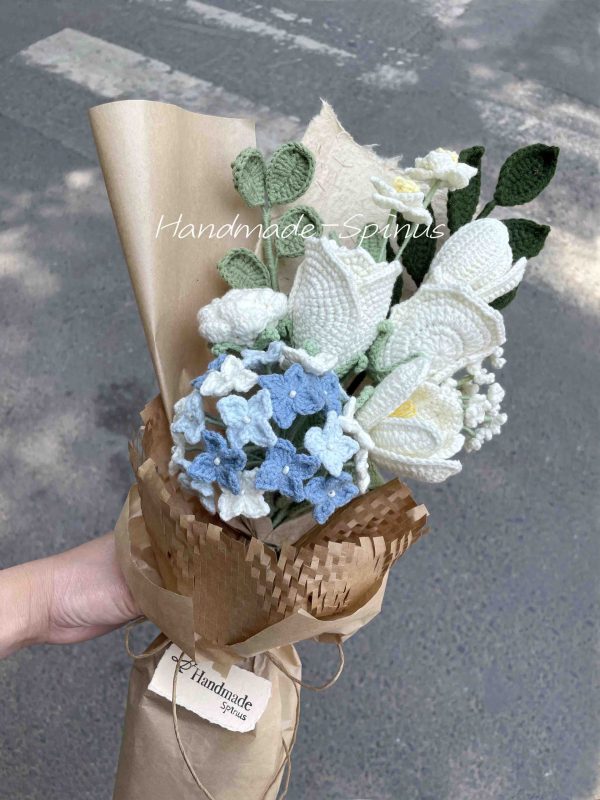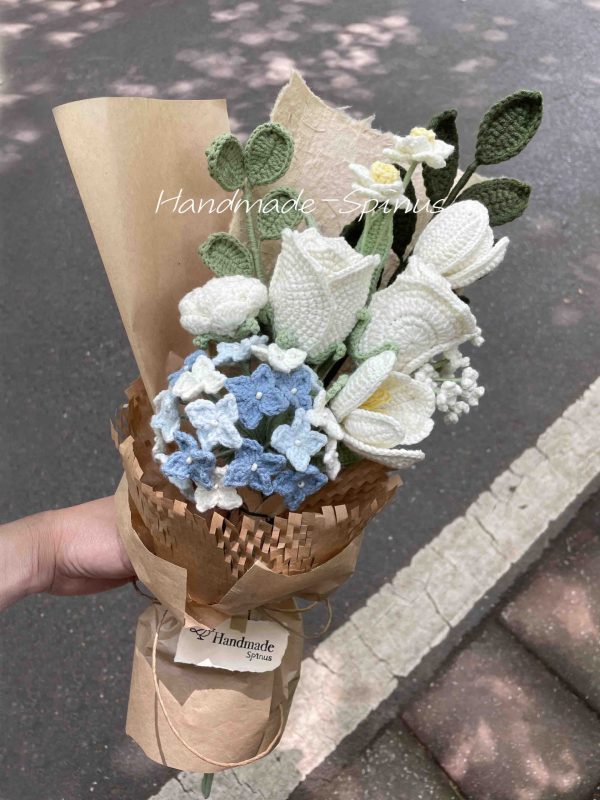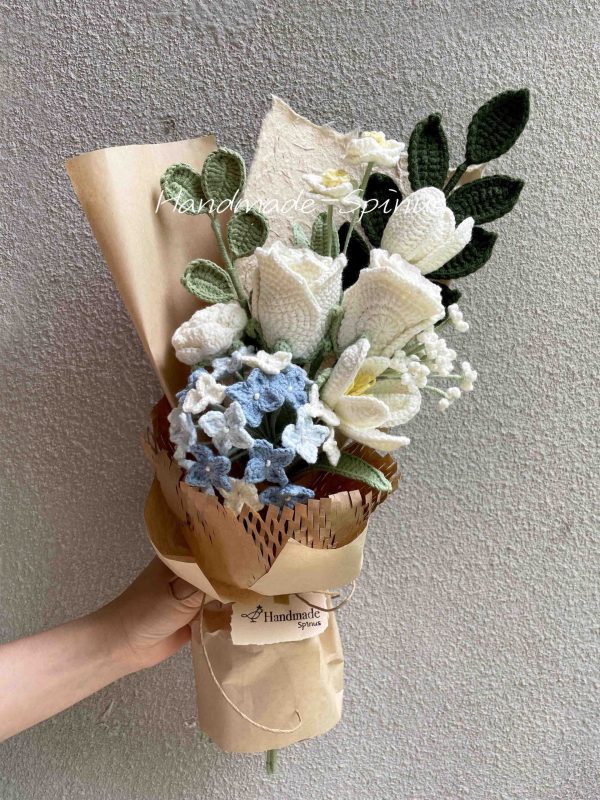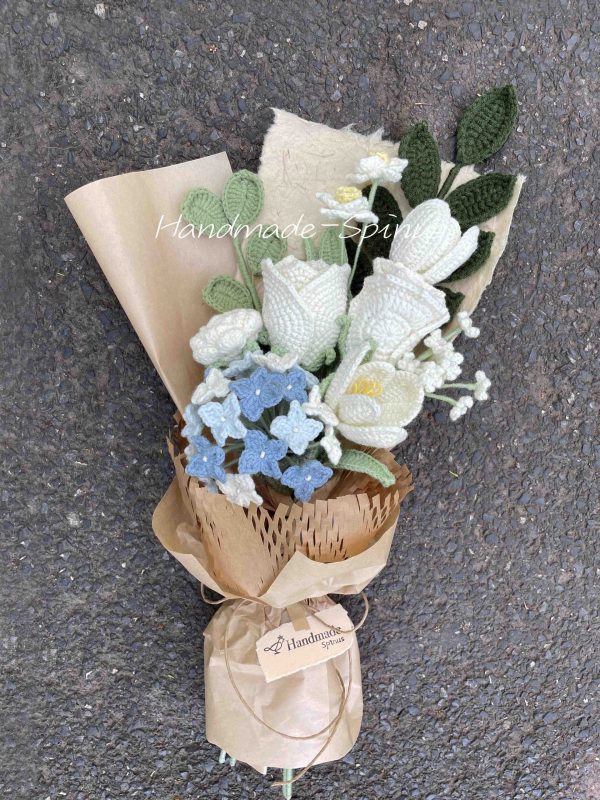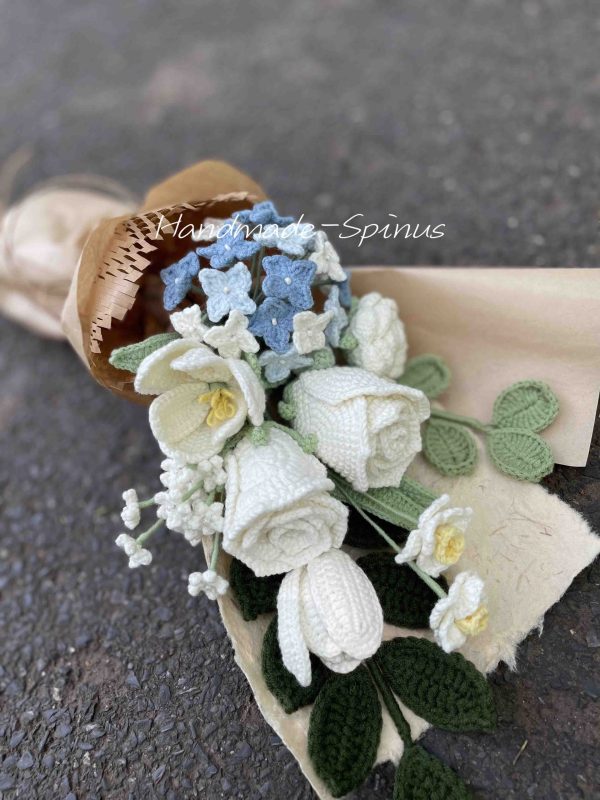 Large Blue Hydrangea Crochet Knit Bouquet
$75.00
Handmade Crochet Art
*Please register and log in first before placing an order for checkout. If you need a coupon, please contact customer service.
A combination of poetry and tenderness.
Like a flower in full bloom.
A rich poetry and tenderness bloom.
You can order on our Etsy store: Handmade-Spinus
The large blue hydrangea is an enchanting flower with rich petals and a vibrant blue color that seems to be the reflection of the sky in a sea of flowers. This crocheted bouquet seems to coalesce the azure blue of the sky into a beautiful form, bringing endless serenity and fantasy.
The blue large hydrangea is not only a decoration, but also a transmission of emotion. Each blue large hydrangea flower is knitted by the fingers of the heart, each hook is knitted with love and care. The process of crocheting seems to be a beautiful journey, our thoughts drifting with the rhythm of the stitches, gradually immersing ourselves in the tranquil atmosphere. In such a creation, we pour our feelings into it, making this bouquet more vivid and real.
A large blue hydrangea crochet bouquet is not just a gift, but a blessing. Giving it to a friend or a loved one, whether it is a birthday or an important anniversary, will convey our deep feelings for them. This bouquet will speak of our care and blessings, making people feel the warmth and beauty in their lives. It also has a unique charm, which can reconnect us with nature. This bouquet seems to carry the scent of a sea of flowers, making us feel the power and beauty of nature. Whether placed in the corner of our home or on the desktop of our office, it brings a sense of tranquility and relaxation. Every time we gaze at it, it is as if we can smell the fragrance of flowers and the breath of the breeze.
This large blue hydrangea crochet bouquet exudes a calming and gentle power that gently embraces our hearts. When we keep it by our side, it seems to be a companion, bringing us peace and relief. Its presence makes us feel at ease and relaxed. It is a kind of praise and appreciation for life, making us appreciate the beauty of the present moment even more. It is a beautiful work of art that combines crochet skills with the inspiration of nature to present a unique and poetic form. It is more than just a bouquet, it is an expression of emotion and a tribute to life. Whether as your own personal collection or as a gift for others, this large blue hydrangea crochet bouquet brings beauty and warmth. Let's keep it in our hearts and let the beauty and gentle power always accompany us in our lives.
Material: Made of high quality brand milk cotton, the fabric is delicate and textured.
According to the characteristics of each flower, different thicknesses of yarn are selected so that each flower can be presented in the most beautiful state.
Size: about 50cm * 15cm * H12cm
Notes:* Products are pure hand crocheted ornaments, each piece will be a little different, and may even have a small thread, but this is the charm of handmade ornaments, such as those who care, please do not place an order.
* Products are made to order, there is a production cycle, the delivery period is generally 5-7 days.
* Fabric can not be completely waterproof, please ensure that hands are clean before taking. If there is a small stain can be used cotton swab with a small amount of water to do cleaning.
*Your support is the driving force of our progress, thanks for meeting.
We can speak freely about our preferences here.
We have professional sharing.We follow the principle of sharing without borders. We look forward to your participation.
| | |
| --- | --- |
| Weight | 0.8 kg |
| Dimensions | 50 × 20 × 14 cm |