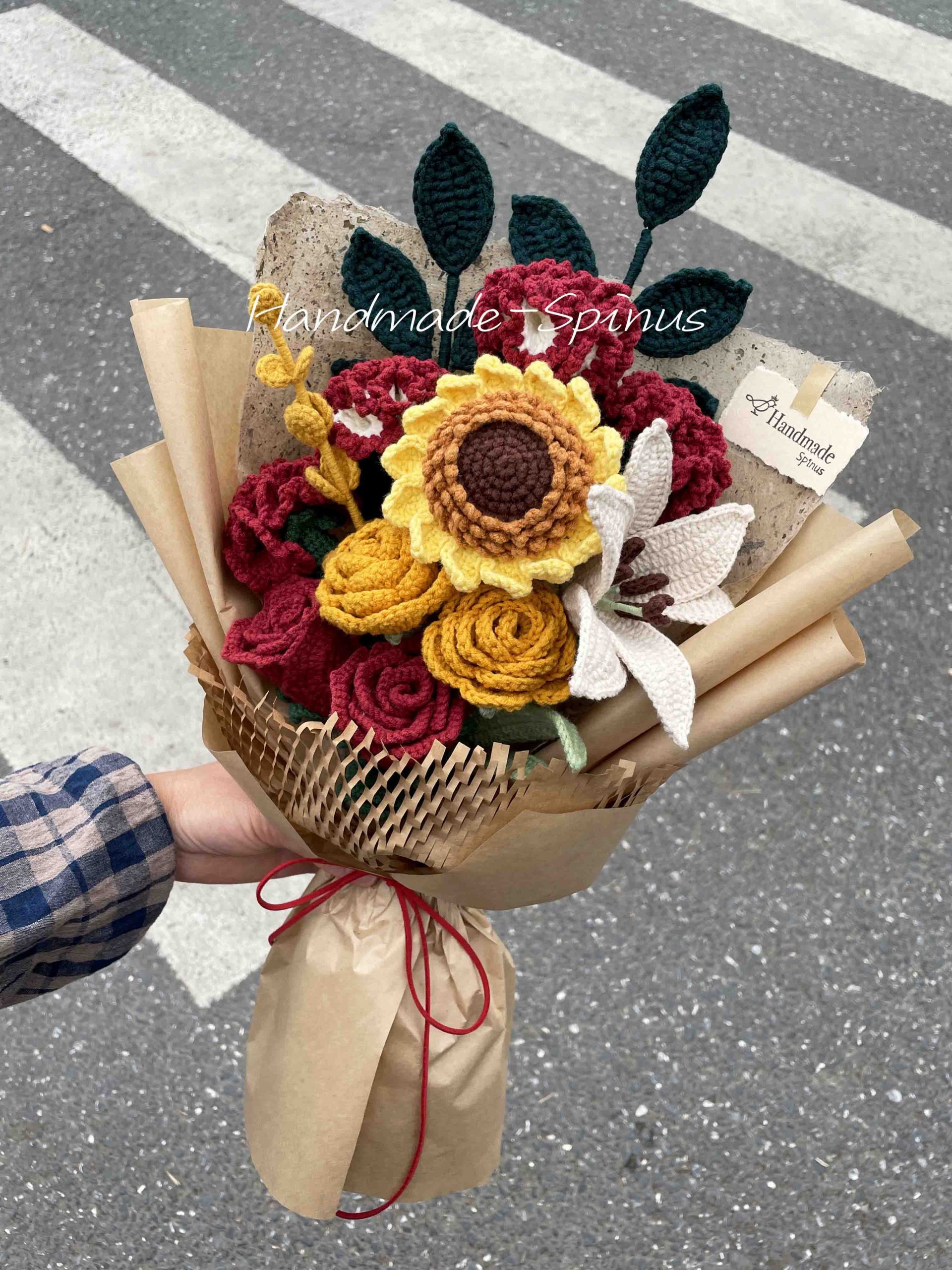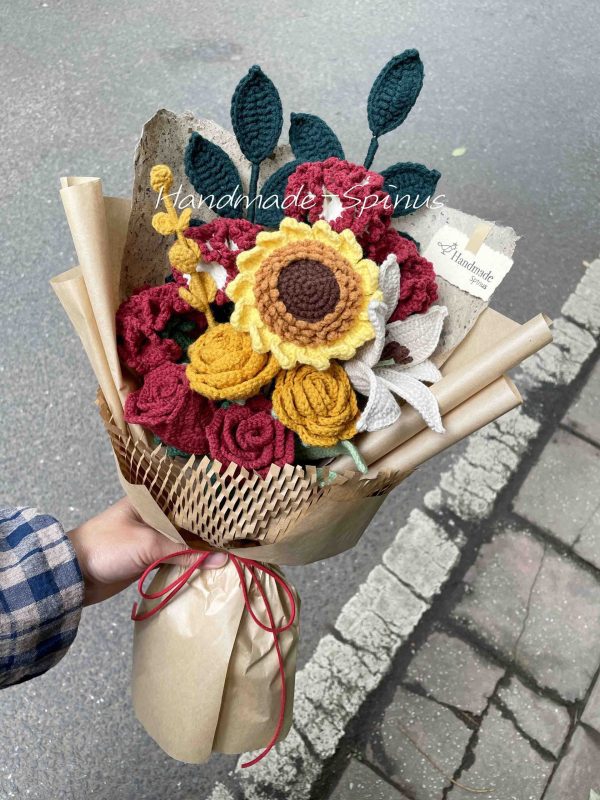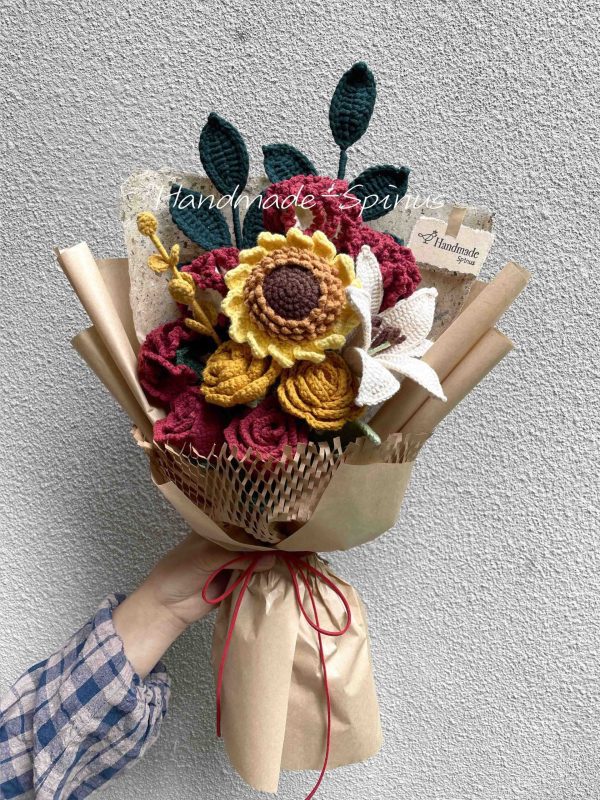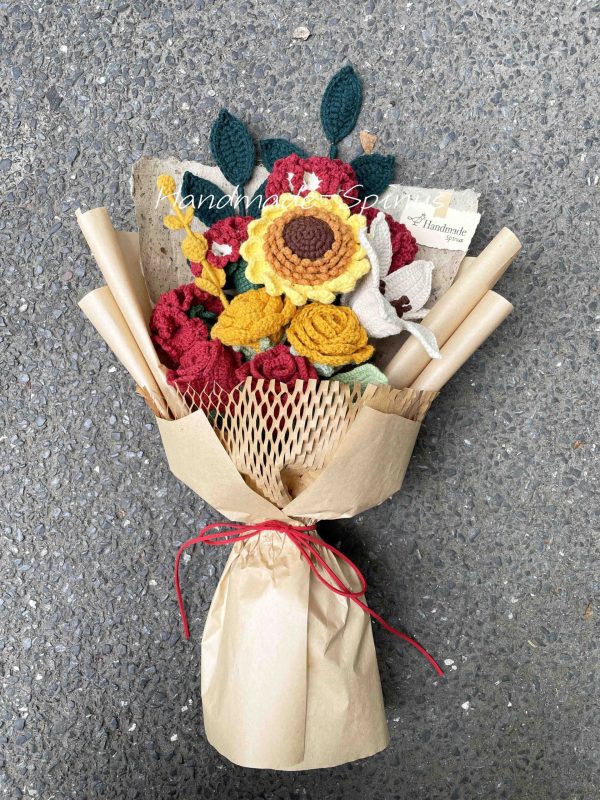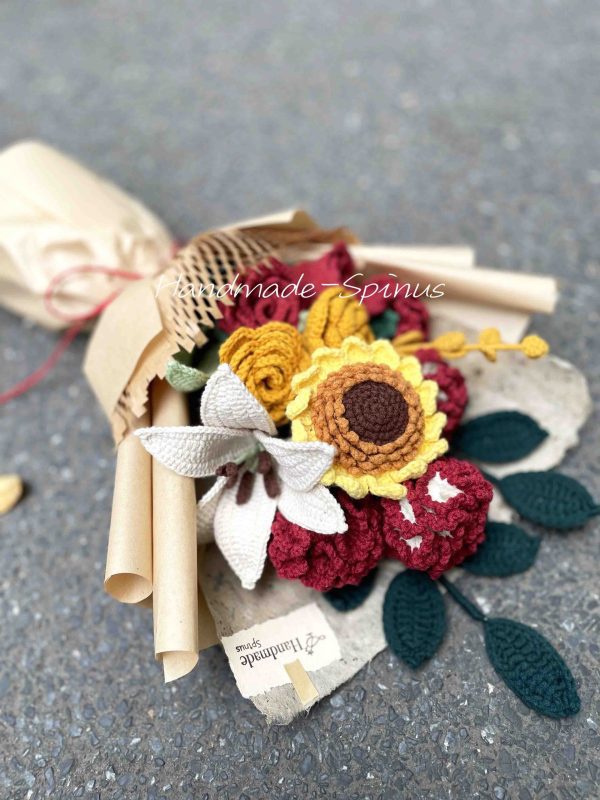 Crochet Knit Bouquet Of Flowers For The Garden
$92.00
Handmade Crochet Art
*Please register and log in first before placing an order for checkout. If you need a coupon, please contact customer service.
Mysterious Garden.
Encounter of bouquets of flowers.
With you and me.
You can order on our Etsy store: Handmade-Spinus
Crochet bouquet gardens: a feast of nature intertwined with handmade art.
Gardens are nature's treasures, bringing joy and serenity with their colorful flowers and fragrant scents. The Crochet Bouquet Garden is a perfect interweaving of nature's feast and handicraft to create an enchanting garden landscape.
Sunflowers symbolize sunshine and hope, and their bright yellow flowers radiate life and warmth toward the sun. Lilies represent purity and nobility, their white petals emitting a fresh floral fragrance. Roses are a symbol of love, and their petals in various colors show romance and passion. Carnations, on the other hand, represent joy and gratitude, releasing a rich fragrance when their flowers are in full bloom.
In the Crochet Bouquet Garden, these flowers are not cultivated directly in the ground, but are woven through clever crochet techniques, a space for creativity and artistic expression. Whether it's sunflowers blooming in the sun, lilies as white as snow, or the fragrance of roses and carnations, you'll feel like you're in a fairy tale wonderland. In addition to their beautiful appearance, crochet bouquet gardens also convey deep emotions and connotations. Each crocheted bouquet represents the artist's heart and creative inspiration, they are a tribute to nature and a cherished art of handcraft.
Crochet bouquet gardens are not only a visual treat, but also a nourishment for the soul. Walking through the garden, one can feel the beauty of nature and the warmth of handmade art. Each crocheted bouquet is unique, as if the artist's heart and emotions were coalesced in it. The flowers in the garden bloom with life and beauty, bringing serenity and joy, while inspiring reflection on nature and creativity.
The Crochet Bouquet Garden is a place of enchantment and inspiration. It is a place where one can appreciate the diversity of flowers and the subtlety of the art of crochet. The creativity and skill of the artists give crochet bouquets a unique expressive and artistic value. This garden not only demonstrates the richness and diversity of nature, but also presents the wisdom and creativity of human beings. Not only are they suitable for display in outdoor flower beds, but they can also be part of interior decoration. They bring a touch of nature and warm atmosphere to the home environment, adding a sense of elegance and beauty to life. Whether given as a gift to others or enjoyed in your own garden, crochet bouquet gardens bring endless joy and artistic enjoyment.
In this fast-paced and busy modern society, crochet bouquet gardens provide an escape from the hustle and bustle and stress. In the garden, people can get close to nature and feel the beauty and tranquility of nature. The uniqueness of crochet bouquets lies in their perfect combination of nature and handicraft, bringing a unique experience and emotional resonance to people. Time seems to freeze, and people can enjoy the gorgeous colors of flowers, feel the fragrant aroma, and let their minds immerse in the sea of flowers to release stress and fatigue. This garden is not only a place to showcase beauty, but also a haven to repair the body and mind. Here, people can live in harmony with nature and reconnect with their inner peace and tranquility.
In this garden, one can feel the harmonious symbiosis of nature and art. With its unique materials and craftsmanship, the crochet bouquet extends and reproduces the beauty of flowers, presenting a different kind of artistic charm. Each bouquet is a work created by the artist's heart, incorporating their emotions and inspiration, giving the viewer inspiration of beauty and emotional resonance.
The crochet bouquet garden is also a cherished and inherited traditional handicraft art. Handed down from generation to generation and passed down from artist to artist, the crochet technique preserves the ancient craftsmanship and techniques and brings these traditional arts into modern garden design. This fusion of traditional and modern handcrafted art gives crochet bouquet gardens a unique flavor and depth. It is a perfect combination of nature, art and handicraft. It allows people to feel the beauty of nature and the charm of art, awakening their love and appreciation of nature and handmade art. People can immerse themselves in the gorgeous colors of the flowers and the delicate crochet process, feeling the wonder of nature and the magic of art. It is an oasis for people to relax and find inspiration.
Its beauty and uniqueness lies in its longevity and malleability. Compared to flowers, crochet bouquets do not fade and can stay beautiful for a long time. They are not limited by the seasons and can be enjoyed at any time of the year with beautiful flowers blooming in the garden. In addition, crochet bouquets can be customized according to the designer's creativity and imagination, creating a variety of shapes, colors and styles to make the garden more diverse and personalized. Every time one steps into a crochet bouquet garden, one can be captivated by the flowers made of threads and crochet needles. Sunflowers show their sunny and strong qualities, lilies display nobility and purity, roses bring a rich romantic atmosphere, and carnations exude joy and gratitude. Together, they form a gorgeous and colorful picture that makes the heart sigh with admiration.
Material: Made of high quality brand milk cotton, the fabric is delicate and textured.
According to the characteristics of each flower, different thicknesses of yarn are selected so that each flower can be presented in the most beautiful state.
Size: about 50cm * 20cm * H15cm
Notes:* Products are pure hand crocheted ornaments, each piece will be a little different, and may even have a small thread, but this is the charm of handmade ornaments, such as those who care, please do not place an order.
* Products are made to order, there is a production cycle, the delivery period is generally 5-7 days.
* Fabric can not be completely waterproof, please ensure that hands are clean before taking. If there is a small stain can be used cotton swab with a small amount of water to do cleaning.
*Your support is the driving force of our progress, thanks for meeting.
We can speak freely about our preferences here.
We have professional sharing.We follow the principle of sharing without borders. We look forward to your participation.
| | |
| --- | --- |
| Weight | 0.8 kg |
| Dimensions | 50 × 20 × 15 cm |