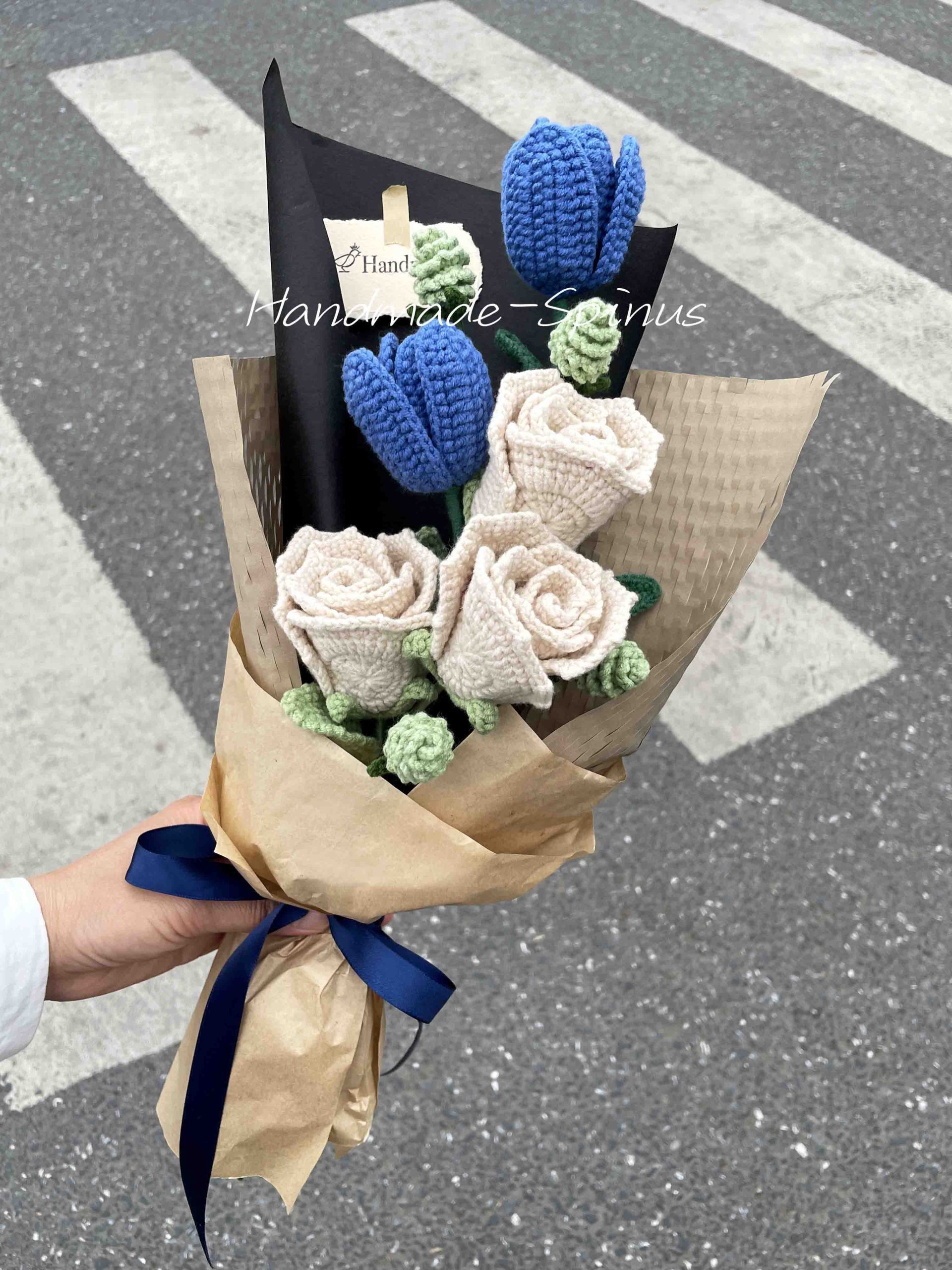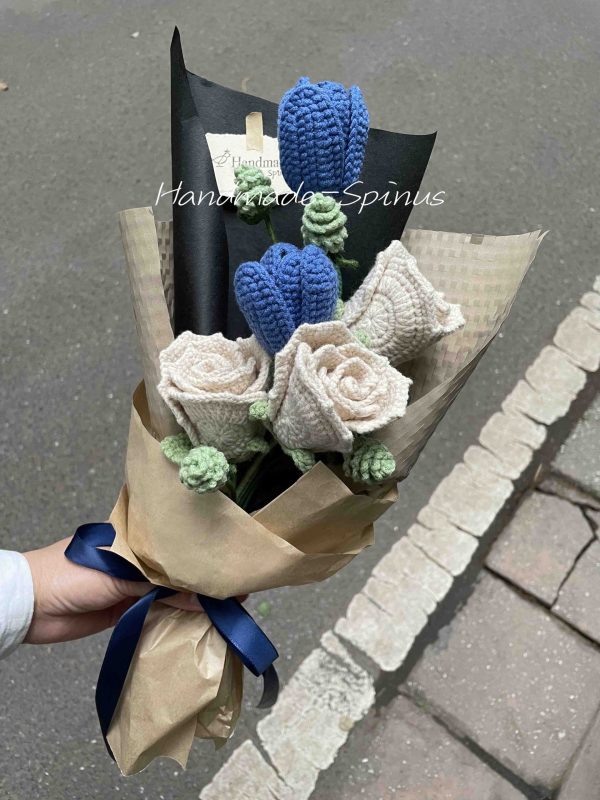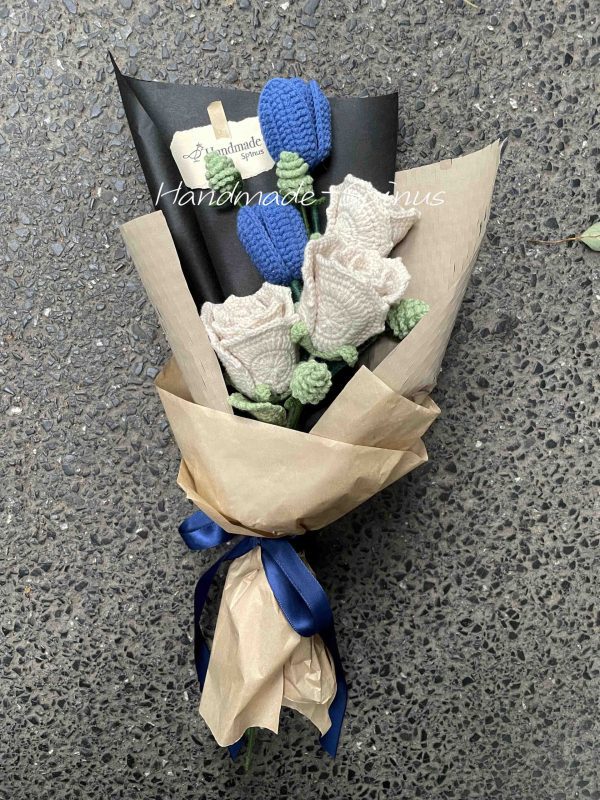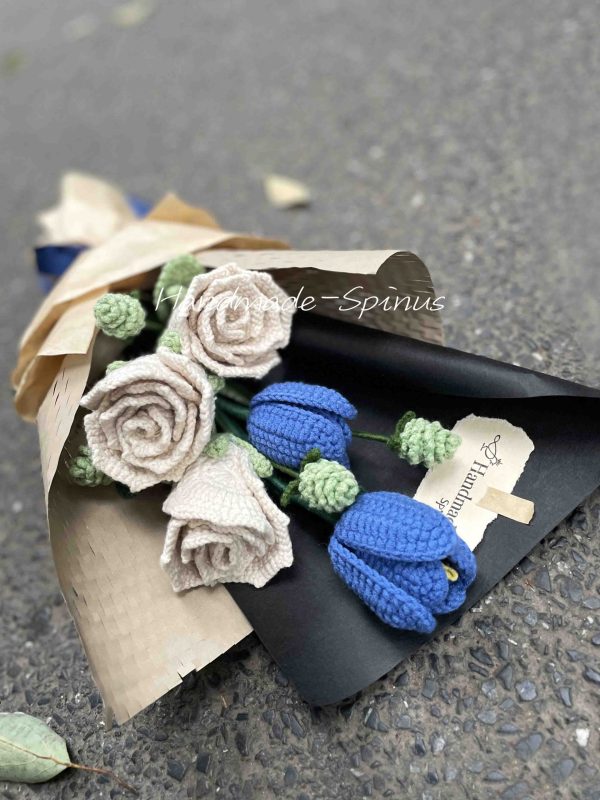 Beige + Blue Fresh & Clean Crochet Knit Bouquet
$47.00
Handmade Crochet Art
*Please register and log in first before placing an order for checkout. If you need a coupon, please contact customer service.
Composure and calmness.
Representing calmness and deepness.
Has healed everything.
You can order on our Etsy store: Handmade-Spinus
While the rose is a flower that represents love and beauty, the beige rose is more introspective and poised. Handcrafted using crochet techniques, these rose blooms showcase the designer's attention to detail and pursuit of craftsmanship.
Mirroring the beige roses are the blue tulips. While tulips represent elegance and grace, blue tulips exude a sense of freshness and serenity. They echo the rose blossoms, creating an elegant and fresh atmosphere.
The entire bouquet is made up of crocheted stems and flowers, each with its own character. From the delicate buds to the dainty blooms, every detail shows the designer's ingenuity and inspiration.This bouquet is not only a beautiful gift, but also a kind of reverence and love for life. It makes us feel the beauty and warmth of life, while also bringing us peace and calm.
Beige + Blue Fresh & Clean Crochet Bouquet reflects the essence and beauty of the art of crochet. It can not only bring us visual beauty, but also bring us inner peace and comfort. It is a kind of salutation and cherishing of life, and also our aspiration and pursuit of a better life. With this beauty and warmth, let's welcome every new beginning of life together.
Material: Made of high quality brand milk cotton, the fabric is delicate and textured.
According to the characteristics of each flower, different thicknesses of yarn are selected so that each flower can be presented in the most beautiful state.
Size: about 50cm * 20cm * H12cm
Notes:* Products are pure hand crocheted ornaments, each piece will be a little different, and may even have a small thread, but this is the charm of handmade ornaments, such as those who care, please do not place an order.
* Products are made to order, there is a production cycle, the delivery period is generally 5-7 days.
* Fabric can not be completely waterproof, please ensure that hands are clean before taking. If there is a small stain can be used cotton swab with a small amount of water to do cleaning.
*Your support is the driving force of our progress, thanks for meeting.
We can speak freely about our preferences here.
We have professional sharing.We follow the principle of sharing without borders. We look forward to your participation.
| | |
| --- | --- |
| Weight | 0.4 kg |
| Dimensions | 50 × 20 × 12 cm |