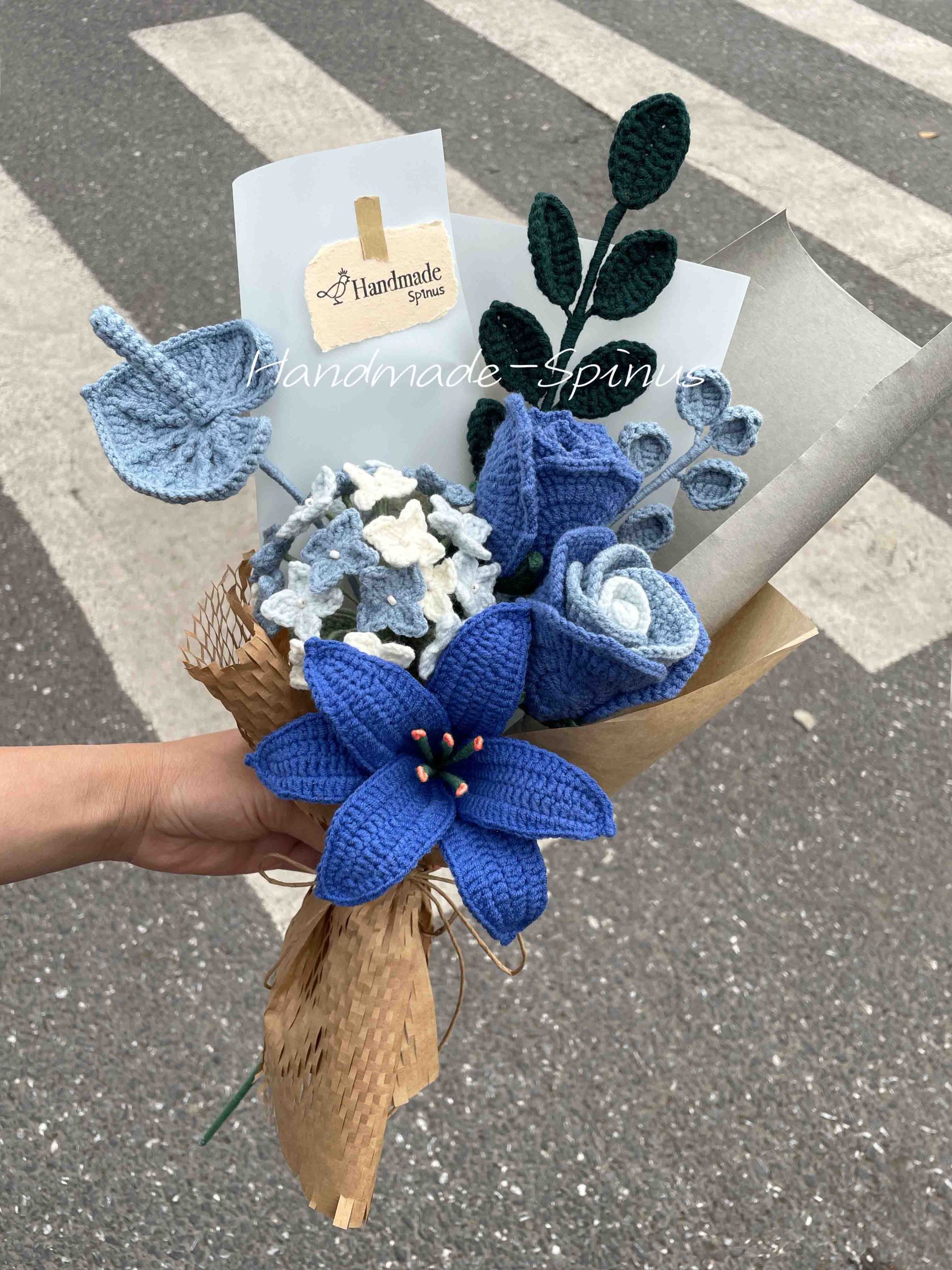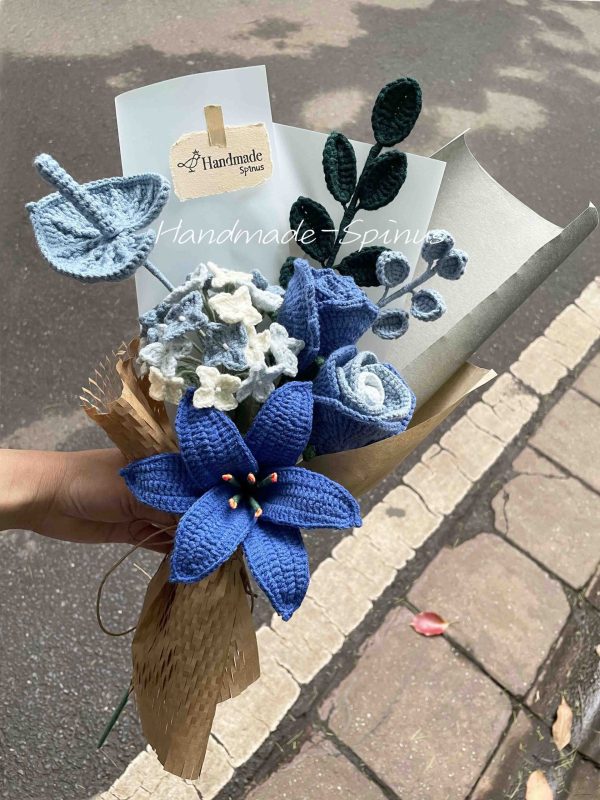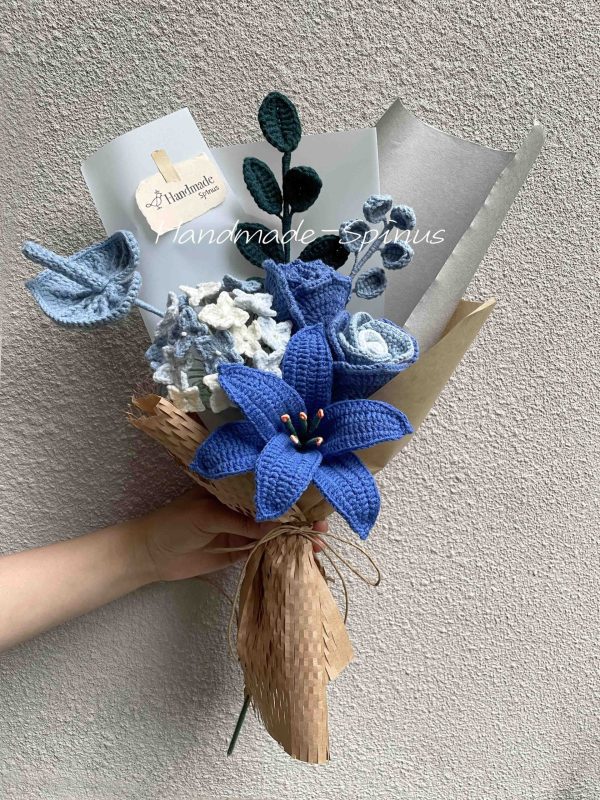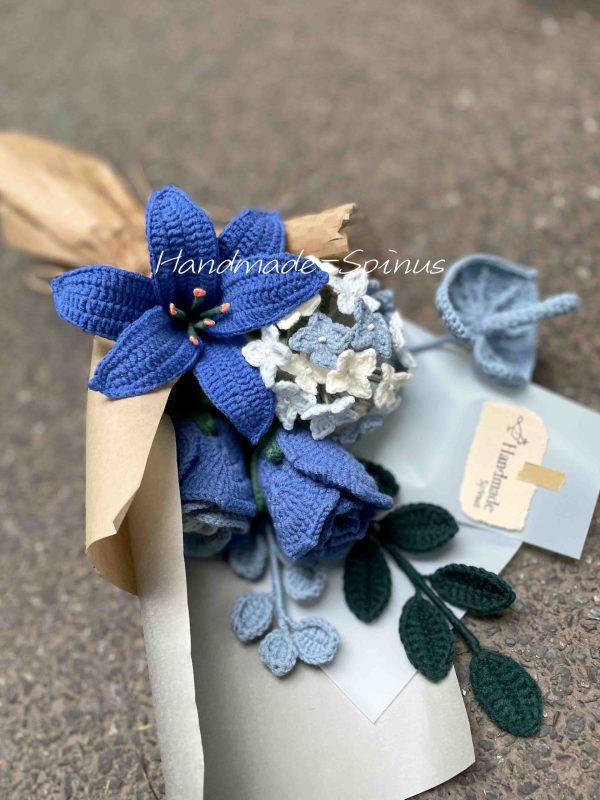 Blue Fireworks Crochet Knit Bouquet
$56.00
Handmade Crochet Art
*Please register and log in first before placing an order for checkout. If you need a coupon, please contact customer service.
Blooming of fireworks.
Splendid starlight that
Glittering glow of enchantment.
You can order on our Etsy store: Handmade-Spinus
I crocheted a fantastic crochet bouquet in blue wool, combining the beauty of four flowers – roses, blue palms, lilies and hydrangeas – with the charm of blue fireworks to create a unique and mesmerizing work of art.
The rose is the queen of flowers, representing love and beauty. I carefully knitted a blue rose with blue wool, showing its graceful petals and elegant lines to the fullest. Each rose seems to be the light blooming in blue fireworks, exuding a mysterious and romantic aura.
Blue palm is a rare flower with noble and elegant qualities. I used a crochet hook to delicately outline the form of blue palms and knitted their unique leaves and inflorescences with blue wool. The color of the blue palm is like the stars in the night sky, shining with a mesmerizing light. Interweaving the blue palm with the rose creates a harmonious and layered beauty.
Lily is a pure and elegant flower, symbolizing innocence and tranquility. I knitted the buds and petals of lilies with blue wool, presenting their delicate colors and elegant posture. The blue color of the lily seems to be the starlight in the night sky, and the white petals seem to be the light in the fireworks, pushing the beauty of the bouquet to the peak.
The hydrangea, infinitely magnified and pure, is breathing like an angel.
This crochet bouquet seems to be a fantastic fireworks show in the night sky, bringing endless imagination and beauty to people. It is not only a bouquet of decoration, but also a pursuit and aspiration of beauty. Each crocheted flower is crocheted with the heart, and each hook is a tribute to flowers and fireworks. This bouquet conveys a romantic and mysterious atmosphere, as if it is bringing the wonders of nature into our lives.
It is an artistic presentation, a tribute and a celebration of nature. The charm lies not only in its appearance, but also in the emotions and stories it conveys. Blue symbolizes dream and mystery, it enchants people with the beauty of fireworks blooming in the night sky. Together they make up the richness and depth of this bouquet.
Whether it's a twinkling night of fireworks or a calm moment of daylight, this crochet bouquet brings a distinctive charm to the table. It shows the perfect blend of blue fireworks and beautiful flowers in a unique way, allowing us to feel the wonders of nature and the charm of art in a glorious glow. Let the mystery and beauty of it accompany us through every beautiful moment. Let the art of crochet and the inspiration of nature intertwine, so that we can find a peace and dream in our busy life. Let this bouquet be our tribute to the beauty of nature and the beauty of art, and let us merge with the wonders of nature.
Material: Made of high quality brand milk cotton, the fabric is delicate and textured.
According to the characteristics of each flower, different thicknesses of yarn are selected so that each flower can be presented in the most beautiful state.
Size: about 50cm * 15cm * H12cm
Notes:* Products are pure hand crocheted ornaments, each piece will be a little different, and may even have a small thread, but this is the charm of handmade ornaments, such as those who care, please do not place an order.
* Products are made to order, there is a production cycle, the delivery period is generally 5-7 days.
* Fabric can not be completely waterproof, please ensure that hands are clean before taking. If there is a small stain can be used cotton swab with a small amount of water to do cleaning.
*Your support is the driving force of our progress, thanks for meeting.
We can speak freely about our preferences here.
We have professional sharing.We follow the principle of sharing without borders. We look forward to your participation.
| | |
| --- | --- |
| Weight | 0.5 kg |
| Dimensions | 50 × 20 × 12 cm |