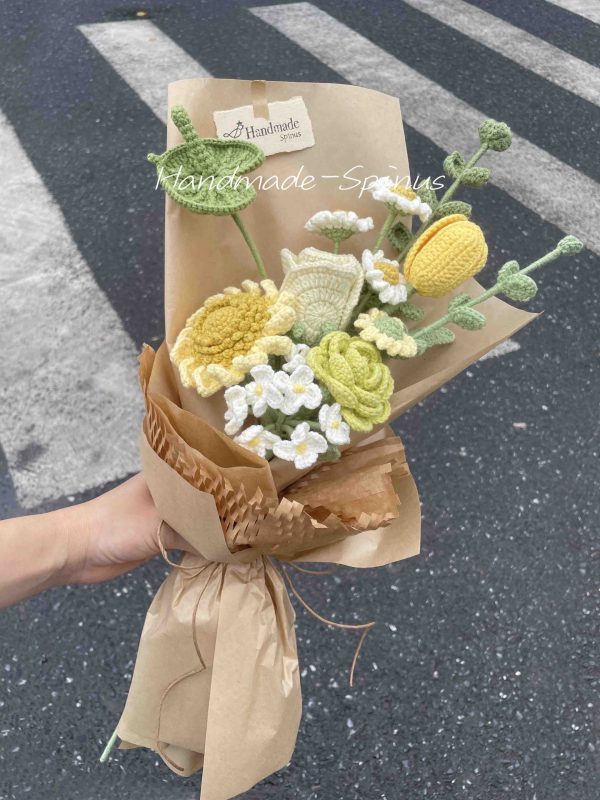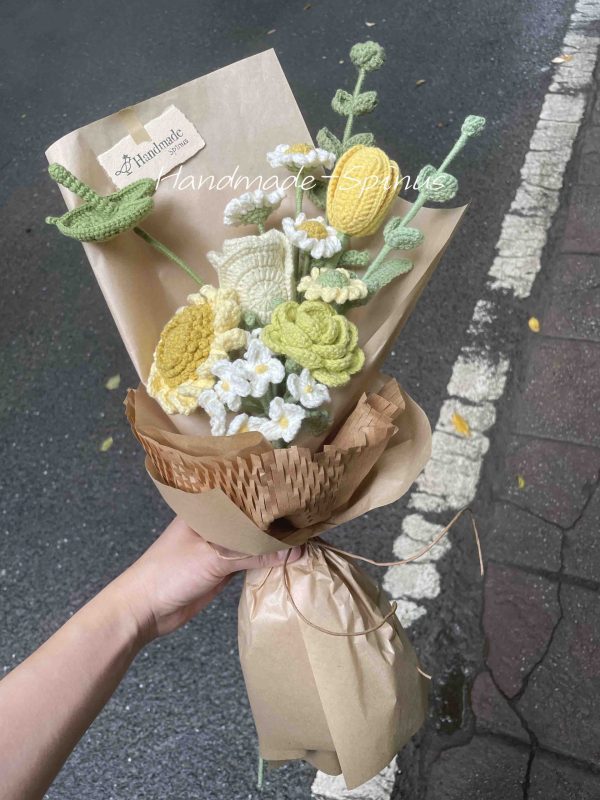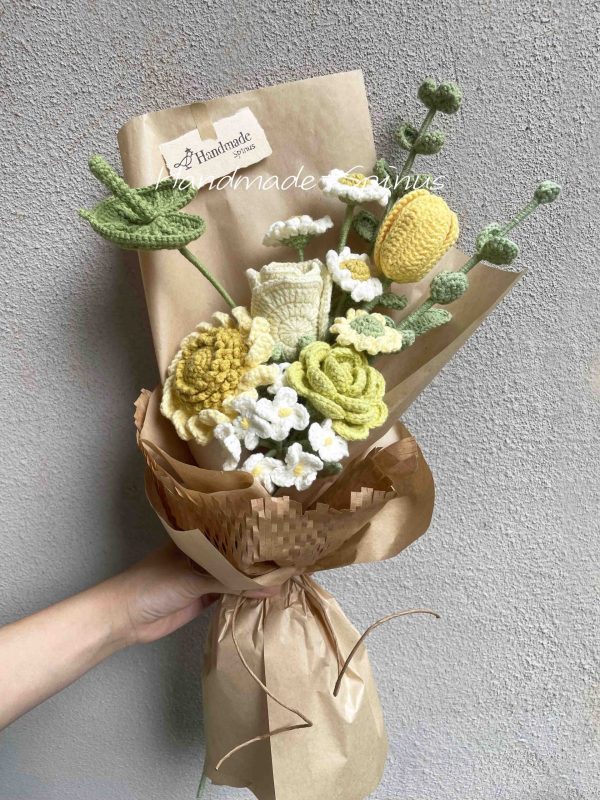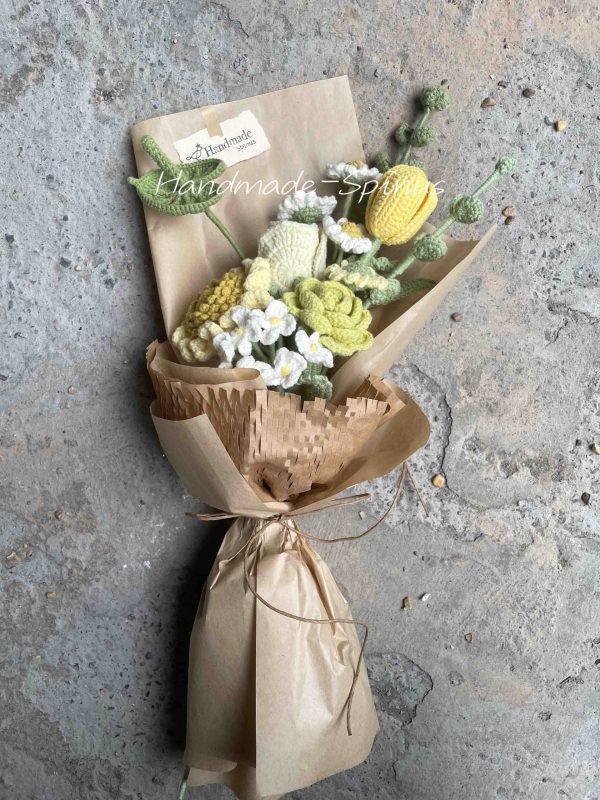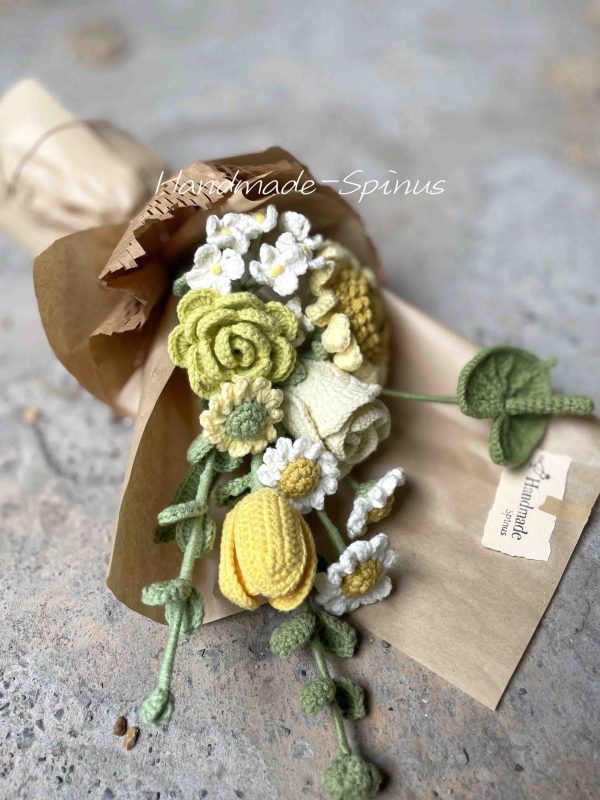 Warm Yellow Sunflower Crochet Knit Bouquet
$69.00
Handmade Crochet Art
*Please register and log in first before placing an order for checkout. If you need a coupon, please contact customer service.
Warmth.
Warmth and exuberance.
Surrounded by joy.
You can order on our Etsy store: Handmade-Spinus
Warm Yellow Crochet Knit Sunflower Bouquet is a bouquet made of warm yellow crochet knit material which contains roses and tulips. Such a bouquet is full of warm and sunny ambiance that brings pleasure and joy.
The choice of crochet knit material can be determined by personal preference. Warm yellow is a warm and bright color that brings a feeling of positivity and relief and complements the image of sunflowers.
Roses and tulips are two very common and popular flowers in this bouquet. Roses symbolize love, beauty and passion, and different colors of roses also have different meanings. Tulips are a symbol of spring and represent hope, prosperity and new beginnings.
Combining these two flowers with sunflowers creates a bouquet that is full of vigor and life. Sunflowers represent the sun, joy and friendship, and their bright yellow color and large, striking flowers bring positive emotions and feelings of pleasure. Their combination with roses and tulips creates a layered and contrasting beauty.
Such a bouquet can be used for various occasions such as birthdays, weddings, graduations or other celebrations. It not only brings visual enjoyment but also conveys a message of warmth and blessings. Whether as a gift or used for decoration, the warm yellow crochet knit sunflower bouquet will bring people joy and wonderful experience.
Material: Made of high quality brand milk cotton, the fabric is delicate and textured.
According to the characteristics of each flower, different thicknesses of yarn are selected so that each flower can be presented in the most beautiful state.
Size: about 50cm * 20cm * H12cm
Notes:* Products are pure hand crocheted ornaments, each piece will be a little different, and may even have a small thread, but this is the charm of handmade ornaments, such as those who care, please do not place an order.
* Products are made to order, there is a production cycle, the delivery period is generally 5-7 days.
* Fabric can not be completely waterproof, please ensure that hands are clean before taking. If there is a small stain can be used cotton swab with a small amount of water to do cleaning.
*Your support is the driving force of our progress, thanks for meeting.
We can speak freely about our preferences here.
We have professional sharing.We follow the principle of sharing without borders. We look forward to your participation.
| | |
| --- | --- |
| Weight | 0.5 kg |
| Dimensions | 50 × 20 × 12 cm |