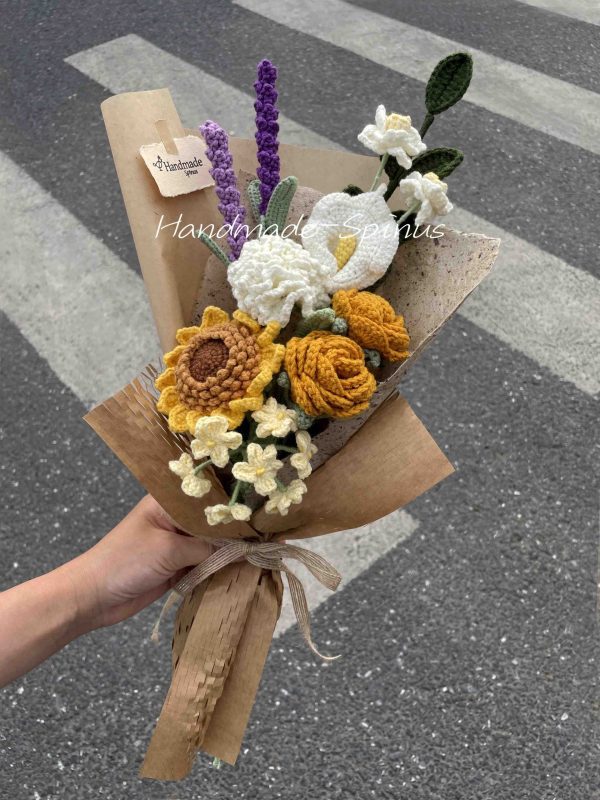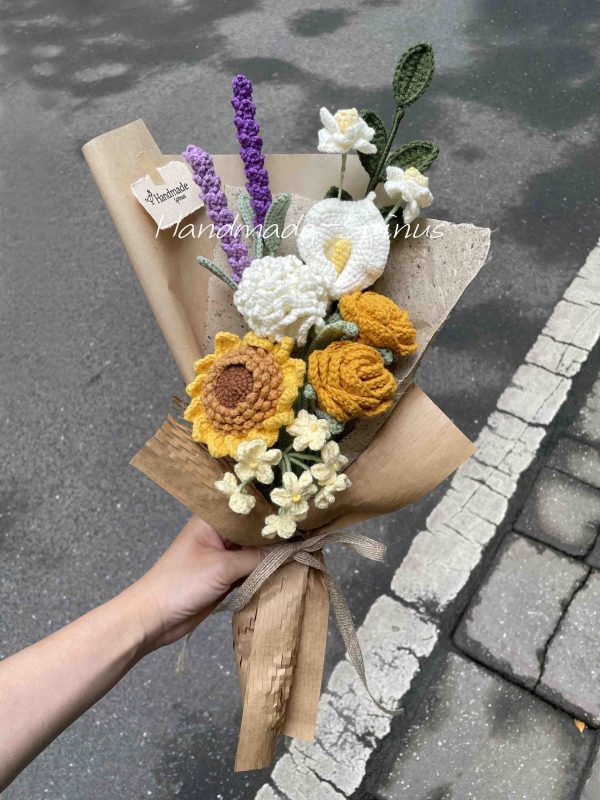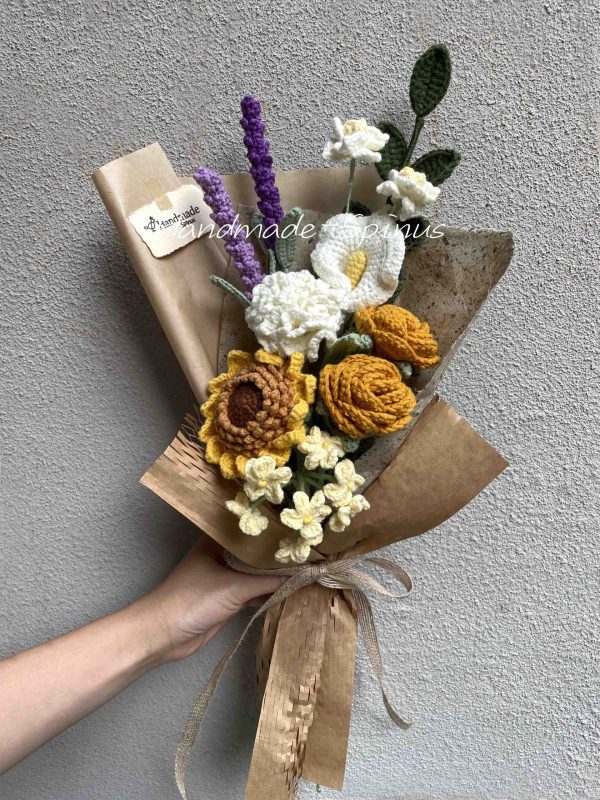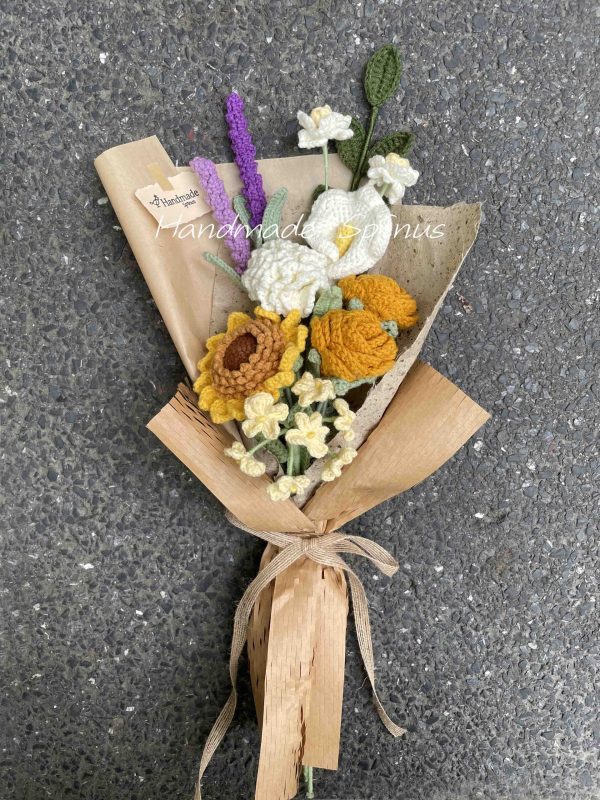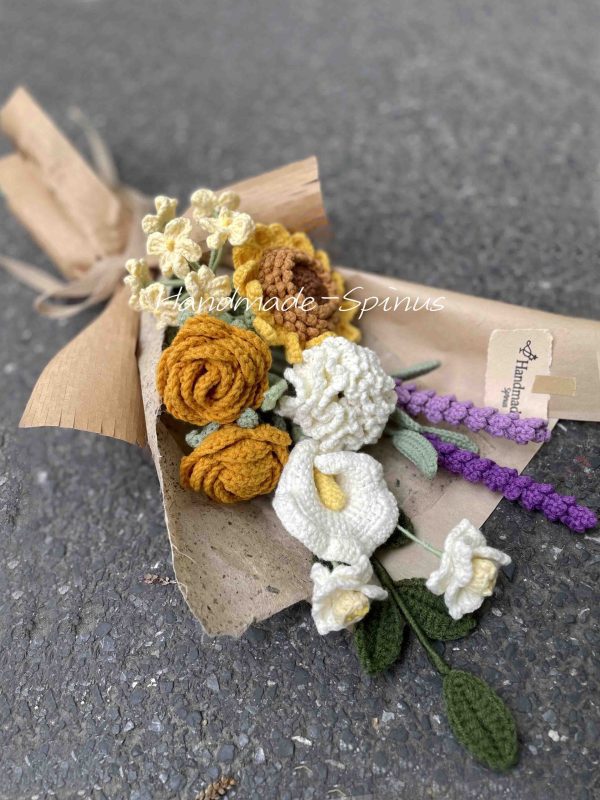 Sunflower & Lavender Temptation Crochet Knit Bouquet
$66.00
Handmade Crochet Art
*Please register and log in first before placing an order for checkout. If you need a coupon, please contact customer service.
Sunshine and tranquility.
The warmth of a smile.
The fragrance of relief.
You can order on our Etsy store: Handmade-Spinus
The interweaving of golden yellow and light purple creates a bouquet that looks like a painting. The brightness of the sunflower and the softness of the clover complement each other so well that you can't help but want to get closer and feel the power of that seduction. It was as if you were in a field of golden sunflowers. The warm sunlight sprinkled on her face, as if a pair of invisible hands gently brushed. She felt the vitality and sunshine represented by the sunflowers, which infused her mind and stirred up the passion and courage deep inside her.
And the fragrance of clover brought her into a quiet and serene garden. It is like being in that sea of purple again, feeling the soft touch between the flowers. Worries and troubles seem to be dispersed, leaving only peace and relief. The clover gives her inner peace and resilience, finding a moment of peace in the hustle and bustle of the world.
This seductive crochet bouquet is not only a combination of flowers, but also a transmission of emotions. The combination of sunflower and clover symbolizes the fusion of vitality and inner tranquility. They convey the power of seduction to everyone, guiding us to chase our dreams bravely, while teaching us to have inner peace and strength. No matter what difficulties and challenges we encounter, we can draw strength from this bouquet and march forward with determination.
It is not just for aesthetic purposes, it also carries a sense of reverence and appreciation for nature. Sunflowers and clivia are nature's gifts that showcase the bounty and beauty of the earth. By enjoying and cherishing this bouquet, we can evoke a sense of concern for nature and protect and care for our common home.
When this seductive crochet bouquet is placed on the table, it is like a gorgeous painting that attracts people's attention. Whether in the home, office or any occasion, it can bring a natural and harmonious atmosphere to the environment. Its presence makes people feel the beauty of life's moments and inspires them to discover more joy and creativity, lighting up every corner of our lives.
Material: Made of high quality brand milk cotton, the fabric is delicate and textured.
According to the characteristics of each flower, different thicknesses of yarn are selected so that each flower can be presented in the most beautiful state.
Size: about 50cm * 20cm * H12cm
Notes:* Products are pure hand crocheted ornaments, each piece will be a little different, and may even have a small thread, but this is the charm of handmade ornaments, such as those who care, please do not place an order.
* Products are made to order, there is a production cycle, the delivery period is generally 5-7 days.
* Fabric can not be completely waterproof, please ensure that hands are clean before taking. If there is a small stain can be used cotton swab with a small amount of water to do cleaning.
*Your support is the driving force of our progress, thanks for meeting.
We can speak freely about our preferences here.
We have professional sharing.We follow the principle of sharing without borders. We look forward to your participation.
| | |
| --- | --- |
| Weight | 0.4 kg |
| Dimensions | 50 × 20 × 15 cm |