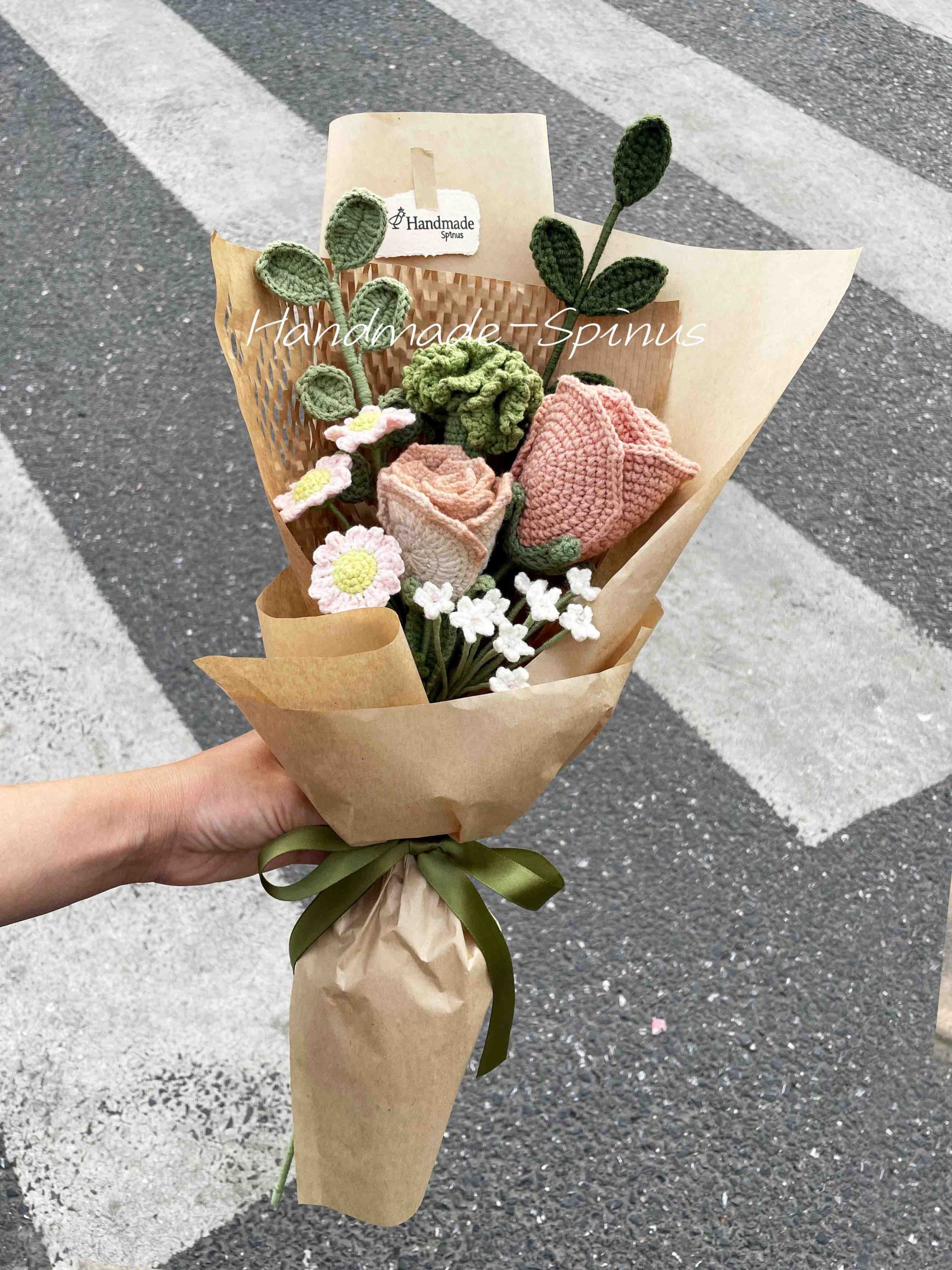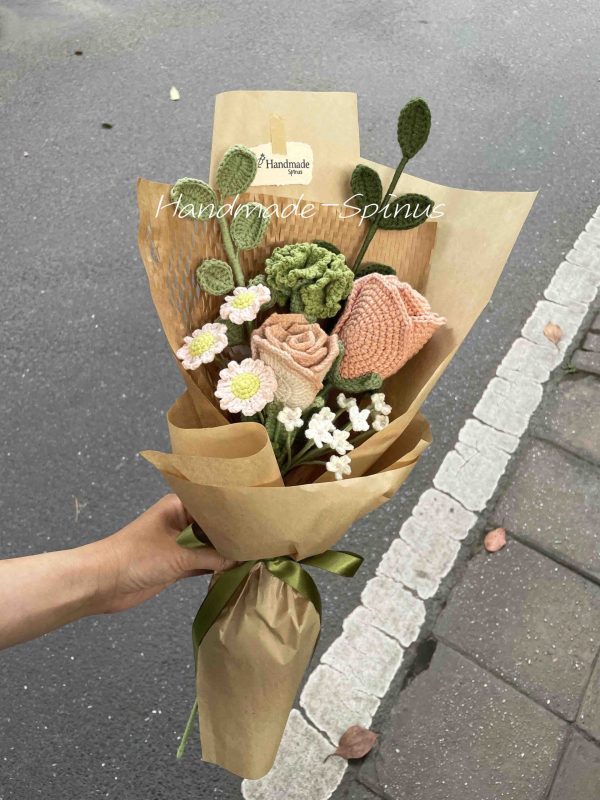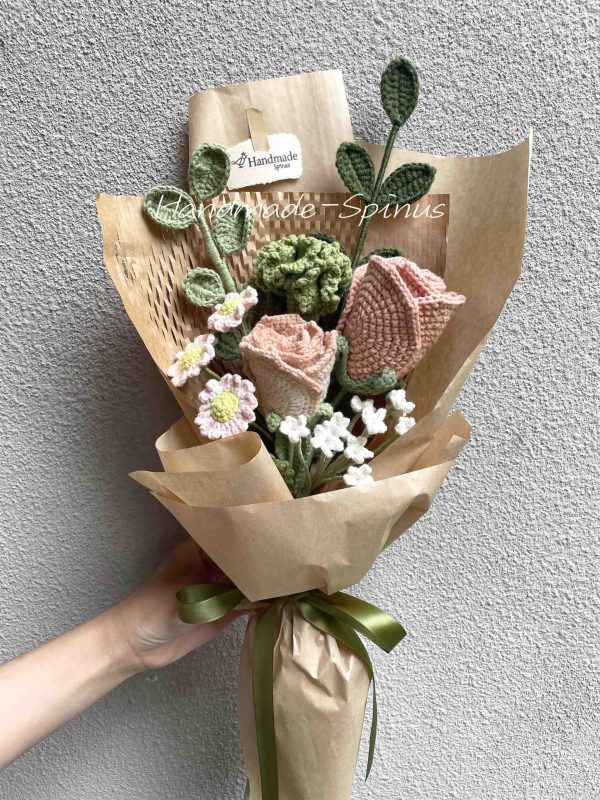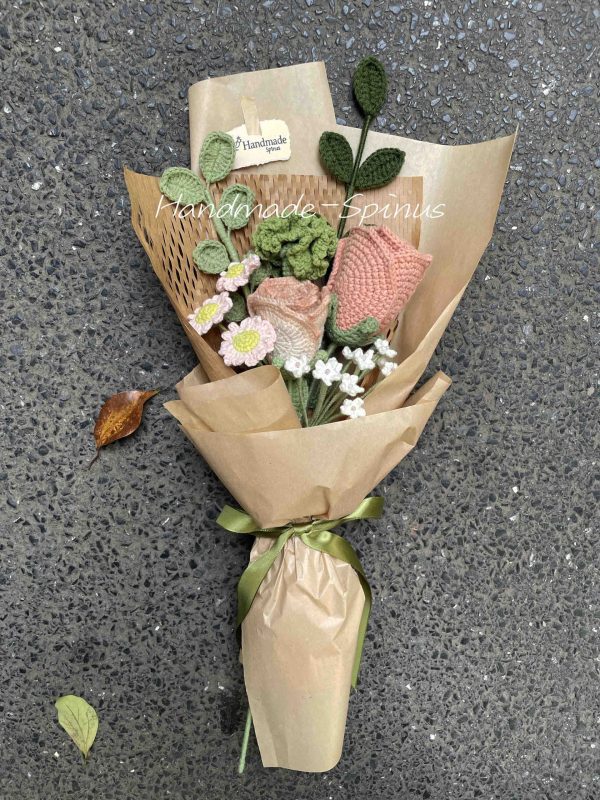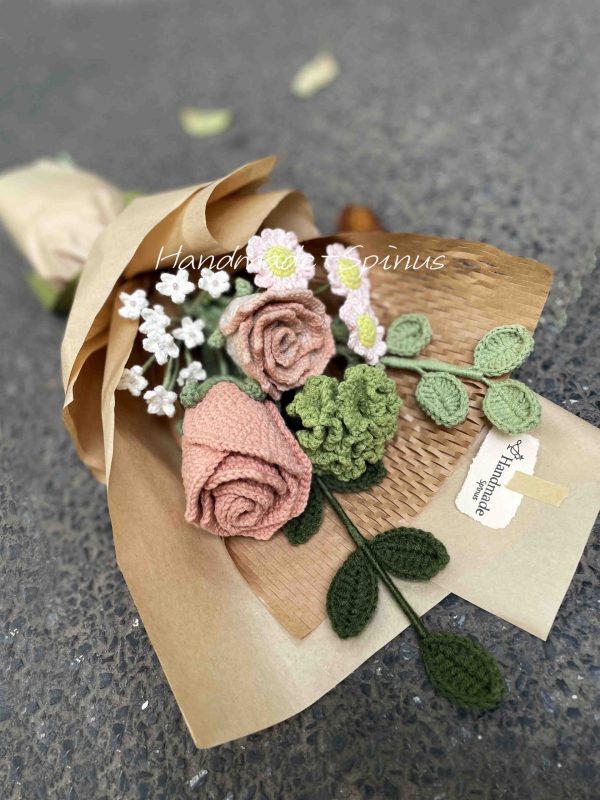 Summer Cappuccino Rose Crochet Knit Bouquet
$52.00
Handmade Crochet Art
*Please register and log in first before placing an order for checkout. If you need a coupon, please contact customer service.
The freshness of summer.
With the warmth of coffee.
The combination of coffee and milk.
The presentation of cappuccino color.
You can order on our Etsy store: Handmade-Spinus
It's a summer morning, the sun is shining on the ground and the breeze brings a touch of coolness to your face. It's an ideal day, a day to savor a cappuccino rose crochet bouquet.
The Cappuccino Rose Crochet Bouquet is a unique summertime floral creation that blends classic crochet techniques with gorgeous rose blooms. Using soft cotton thread and chic crochet hooks, florists weave vivid summer sentiments into a beautiful bouquet.
The bouquet is inspired by the shades of cappuccino coffee, with intertwining shades of brown and creamy white. Each rose is carefully designed with petals cascading as if they were real flowers. Some blooms are a deep chocolate color with a hint of rich sweetness, while others are a soft creamy white that gives a fresh feel. The heart of the rose, on the other hand, is decorated with light brown pearls that give off a light glow.
The Summer Cappuccino Rose Crochet Bouquet is more than just a bouquet; it is a tribute to and appreciation of summer. It reminds people of sunny mornings, the delightful feeling of walking through a sea of flowers, and the joy of sharing good times with friends and family. Whether placed in a vase at home or given as a gift to a beloved one, this bouquet brings the warmth and beauty of summer.
What makes crochet bouquets unique is their durability and sustainability. Compared to flowers, this crochet bouquet can be preserved for a long time and become a lasting memory. It does not need sunlight or water, and it will not fade and can accompany people through the summer. At the same time, the crochet bouquet is made of cotton thread, which is environmentally friendly and in line with the concept of sustainable development, allowing people to enjoy the beauty while protecting the ecological balance of nature.
Let the cappuccino rose crochet bouquet accompany us through every warm day this summer. Whether you place it in your living room at home or carry it around, this bouquet will bring us a sense of peace and pleasure. Crochet bouquets are more than just a decoration, they represent creativity and unique artistic expression. Each rose is a masterpiece woven with heart and skill by florists, showing their pursuit of beauty and reverence for nature. Each flower is unique and no two are exactly alike, just as each summer has a different story and memory.
In addition to roses, this crochet bouquet can be enhanced by adding other summer elements such as small emerald green leaves and fresh carnations to make the whole bouquet more colorful. The combination of these elements combined with the florist's creativity gives the crochet bouquet more life and charm. It is also a unique gift choice. Whether it is for a family member, friend or lover, this bouquet can convey your love and blessings to them. It not only represents the pursuit of beauty, but also holds the expectation of happiness and warmth. Receiving such a carefully crafted cappuccino rose crochet bouquet will surely touch your heart and leave a fond memory.
Material: Made of high quality brand milk cotton, the fabric is delicate and textured.
According to the characteristics of each flower, different thicknesses of yarn are selected so that each flower can be presented in the most beautiful state.
Size: about 50cm * 20cm * H12cm
Notes:* Products are pure hand crocheted ornaments, each piece will be a little different, and may even have a small thread, but this is the charm of handmade ornaments, such as those who care, please do not place an order.
* Products are made to order, there is a production cycle, the delivery period is generally 5-7 days.
* Fabric can not be completely waterproof, please ensure that hands are clean before taking. If there is a small stain can be used cotton swab with a small amount of water to do cleaning.
*Your support is the driving force of our progress, thanks for meeting.
We can speak freely about our preferences here.
We have professional sharing.We follow the principle of sharing without borders. We look forward to your participation.
| | |
| --- | --- |
| Weight | 0.4 kg |
| Dimensions | 50 × 20 × 12 cm |