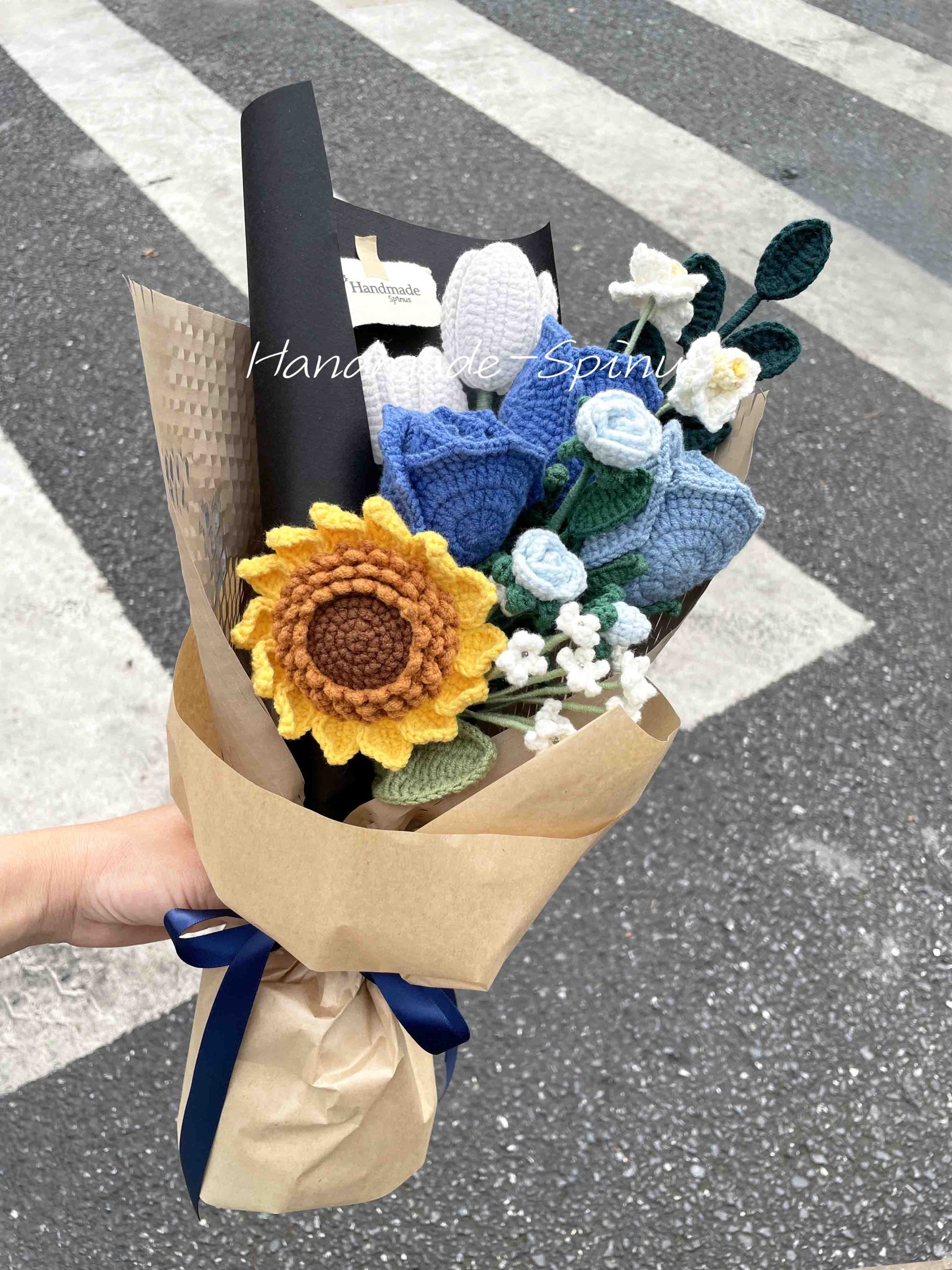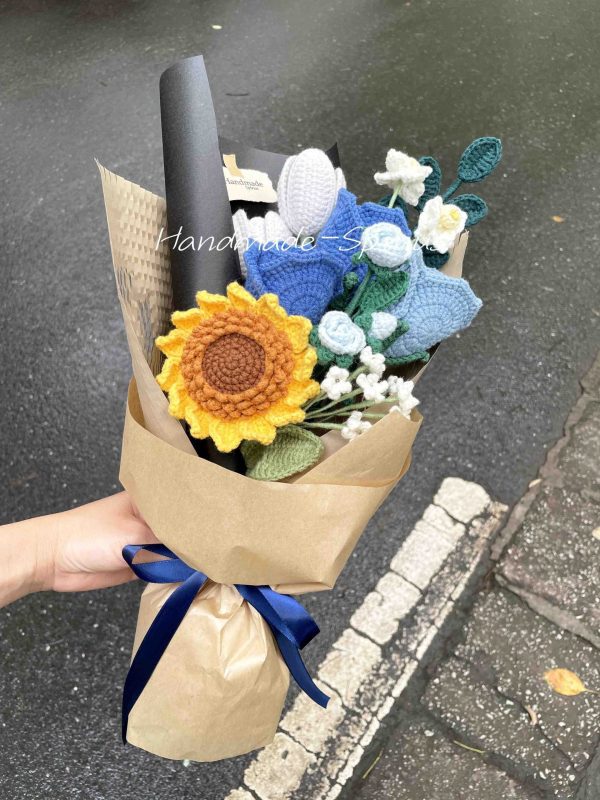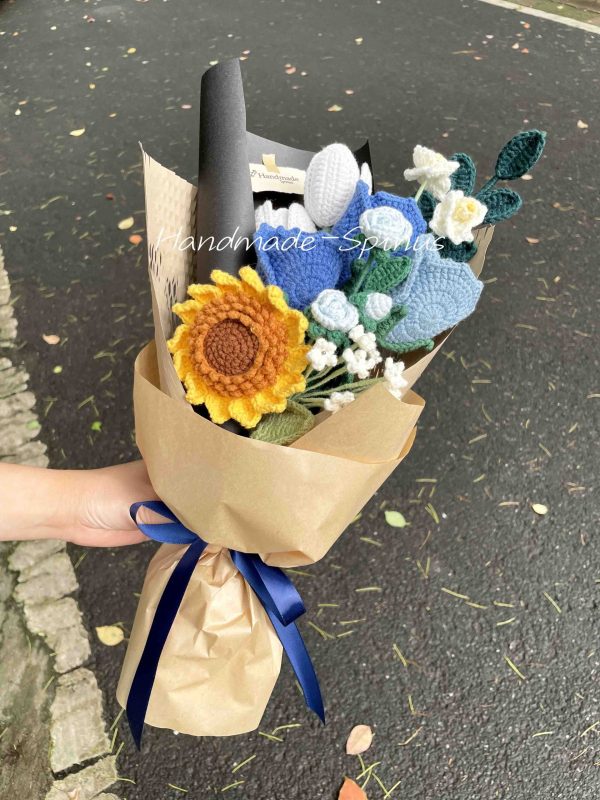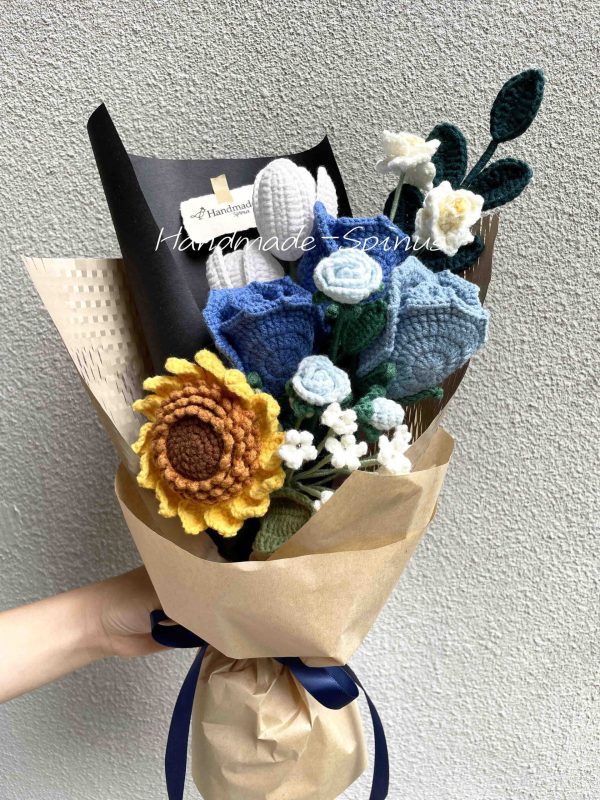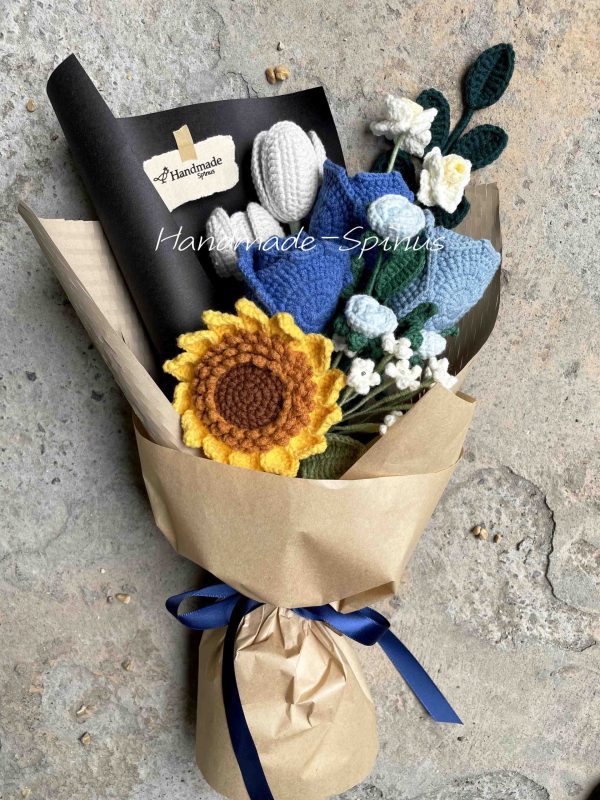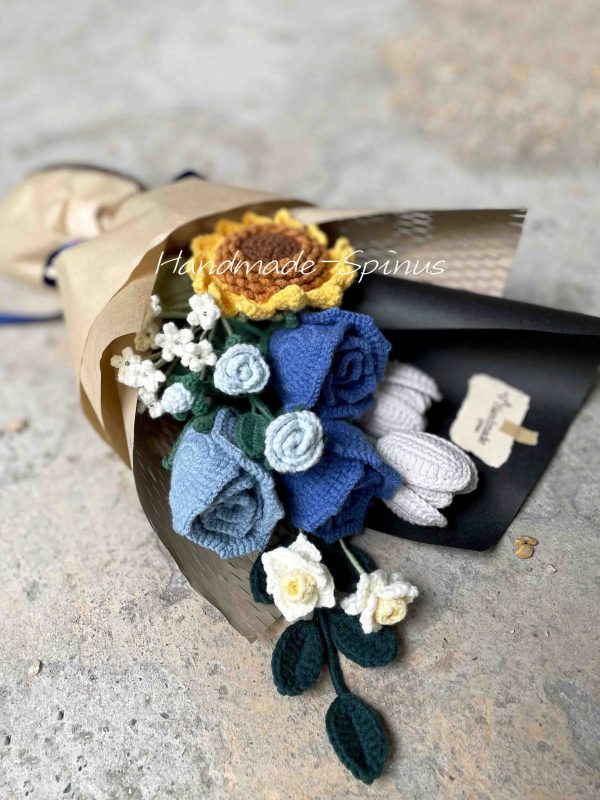 Blue Rose + Sunflower Crochet Knit Bouquet
$67.00
Handmade Crochet Art
*Please register and log in first before placing an order for checkout. If you need a coupon, please contact customer service.
Blue represents mystery and longing.
Gold symbolizes sunshine and hope.
Create a unique beauty.
You can order on our Etsy store: Handmade-Spinus
These rare blue petals are like stars in the night sky, shining mysteriously in the light of the glow. The blue rose blossoms with her personality, symbolizing the deepest dreams and aspirations of the heart. Sunflowers show their large, bright buds as if chasing the rays of the sun. Their tall, strong stems represent hope and resilience.
When blue roses and sunflowers are placed together, a miracle happens. The mystery of blue and the warmth of gold intertwine to create a beauty like no other. The unique color of the blue rose brings a soft mystery to the sunflower, while the brightness of the sunflower brings a warmth and hope to the blue rose. This combination, both unique and beautiful, this combination, both unique and beautiful, seems to speak of two very different emotions and forces of life. Blue roses and sunflowers are intertwined in the bouquet, setting each other off and creating a breathtaking visual effect.
People are drawn to this unique combination and feel the mystery and warmth contained in the bouquet. It also conveys a deep moral. It reminds us that in life, we can blend different qualities and emotions to create something unique and beautiful. Just as blue roses and sunflowers meet and influence each other, we can also meet different people, learn from each other's strengths, and grow and improve together.
This crochet bouquet of blue roses and sunflowers also exudes a unique energy and charm. It guides one to think about the opposites in life and to try to bring them together. It shows us that even though there are very different emotions and traits, we can create a beautiful harmony through acceptance and tolerance. In our lives, we can also try to blend very different things together. Like the crocheted bouquet of blue roses and sunflowers, we can combine our different qualities and interests to create a unique presence.
Just as blue roses and sunflowers nestle into each other in a bouquet, we can support and encourage each other in difficult moments. When we face challenges and hardships, we can overcome them by keeping our inner desire and finding the strength of the sun. Let's use the Blue Rose and Sunflower Crochet Bouquet as an example to exude the power of longing, hope and inclusion. Let us believe that in diversity and uniqueness, we can create a better and more harmonious world.
Material: Made of high quality brand milk cotton, the fabric is delicate and textured.
According to the characteristics of each flower, different thicknesses of yarn are selected so that each flower can be presented in the most beautiful state.
Size: about 50cm * 20cm * H12cm
Notes:* Products are pure hand crocheted ornaments, each piece will be a little different, and may even have a small thread, but this is the charm of handmade ornaments, such as those who care, please do not place an order.
* Products are made to order, there is a production cycle, the delivery period is generally 5-7 days.
* Fabric can not be completely waterproof, please ensure that hands are clean before taking. If there is a small stain can be used cotton swab with a small amount of water to do cleaning.
*Your support is the driving force of our progress, thanks for meeting.
We can speak freely about our preferences here.
We have professional sharing.We follow the principle of sharing without borders. We look forward to your participation.
| | |
| --- | --- |
| Weight | 0.4 kg |
| Dimensions | 50 × 20 × 12 cm |