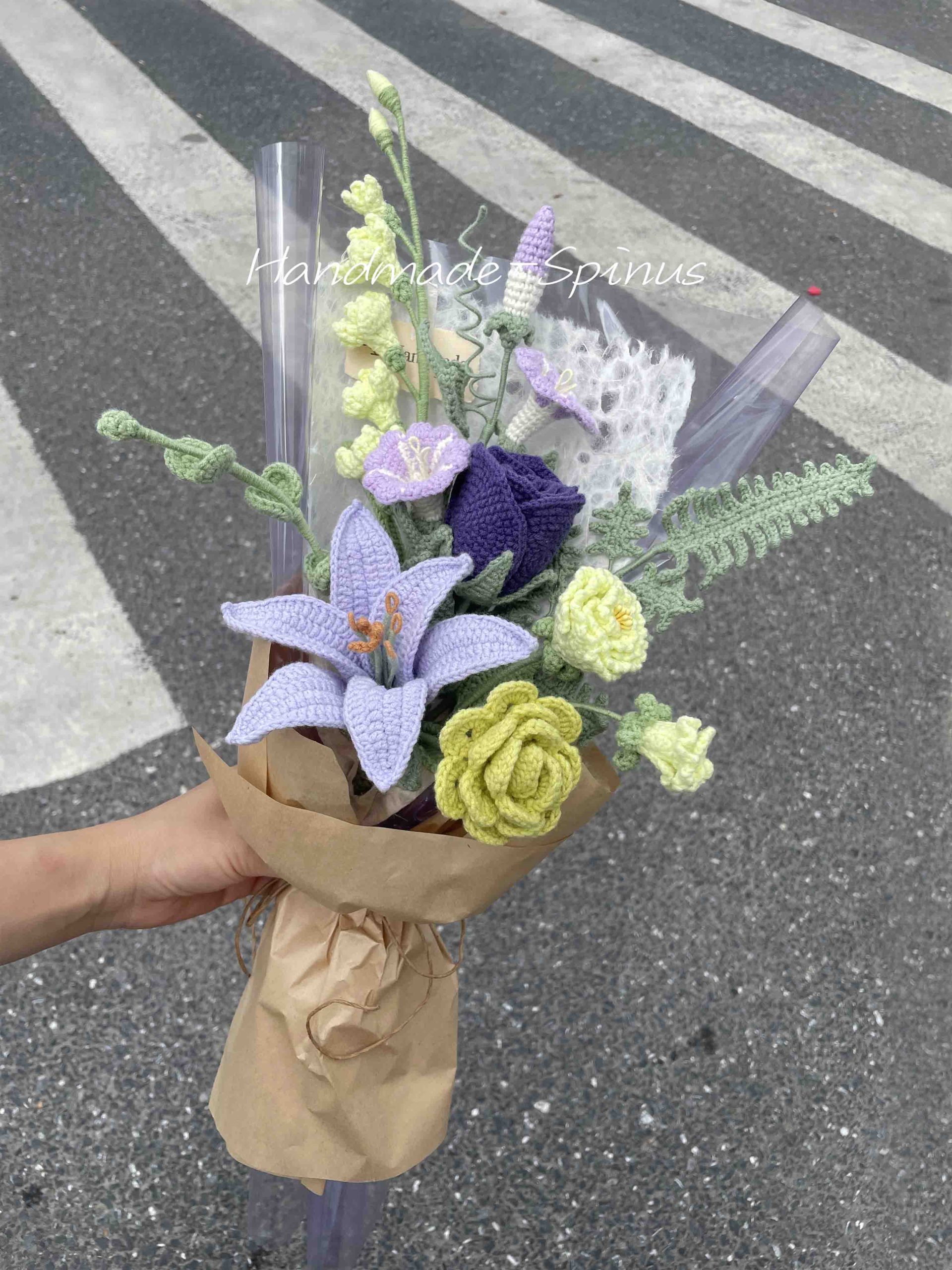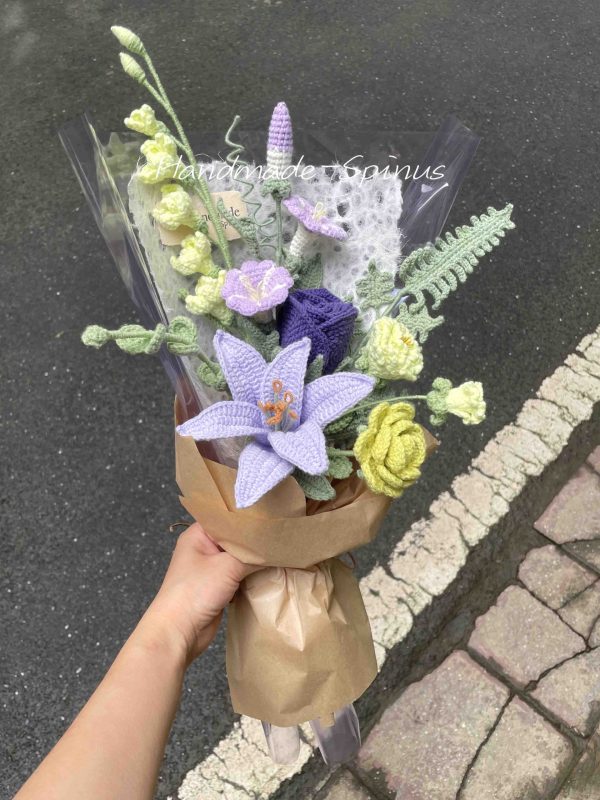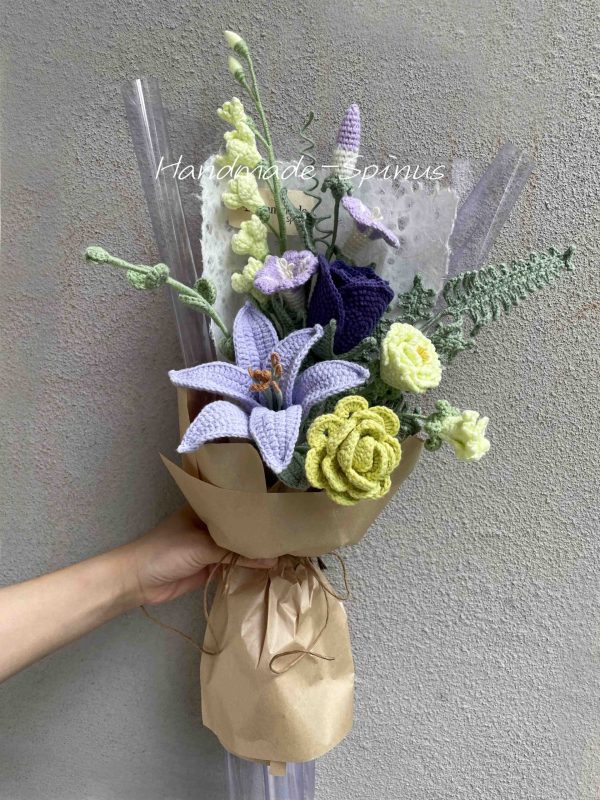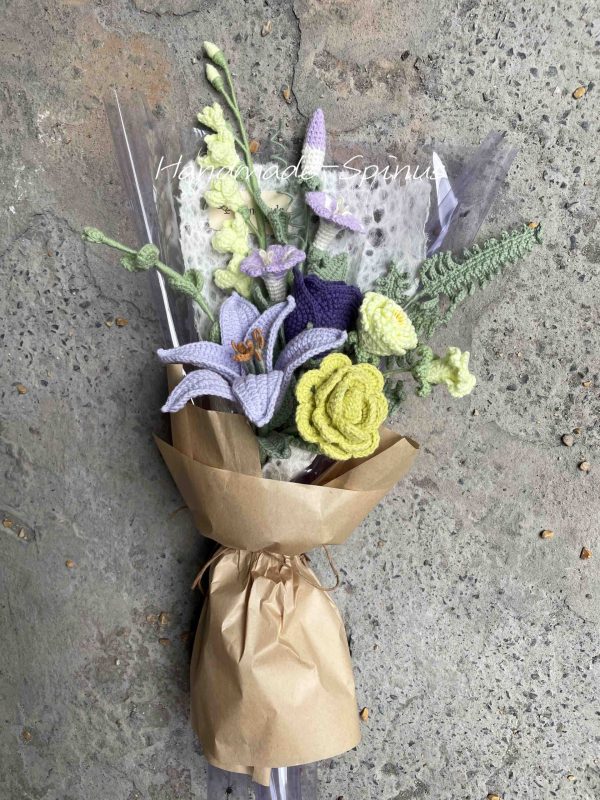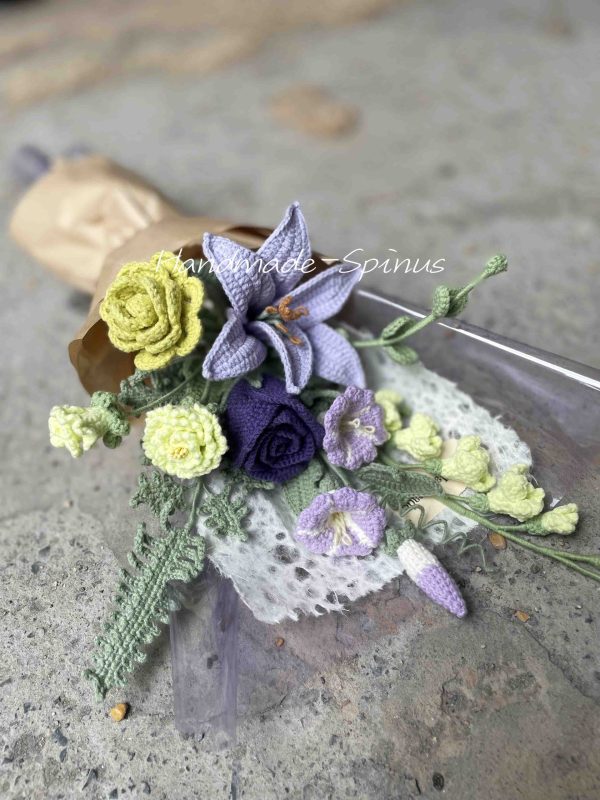 Purple & Green World Crochet Knit Bouquet
$70.00
Handmade Crochet Art
*Please register and log in first before placing an order for checkout. If you need a coupon, please contact customer service.
Romance and elegance.
Serenity and tranquility.
Innocence and romance.
You can order on our Etsy store: Handmade-Spinus
When I saw the crocheted bouquet of blue-purple lilies, yellow-green roses, soft yellow daisies, white-purple petunias, purple roses, and ferns, I was captivated by its unique color palette. The bouquet's theme of purples and greens, accented with other rich colors, struck me as both dreamy and real.
The blue-purple color of the lilies shimmers in the sunlight like tiny crystals. They mingle with the white-purple of the petunias, giving them a sense of serenity and peace. Meanwhile, the yellow-green roses add a touch of brightness and liveliness to the bouquet, while the tender yellow daisies exude an air of innocence. I was most enamored with the deep, regal purple roses, which blended in and stood out from the other flowers, adding a touch of elegance and luxury to the bouquet.
The bright green foliage of the ferns surrounded the colorful flowers in a warm embrace. They connect the different elements of the bouquet and provide a beautiful backdrop for the flowers, harmonizing the whole bouquet. I can't help but imagine how beautiful this bouquet will feel to its recipient – it will be like a dream, an exotic dream, both mysterious and magnificent.
As I savored the bouquet, I realized that each flower seemed to tell a story. The blue and purple lilies tell a story of purity and solemnity, the yellow and green roses symbolize hope and vitality, the soft yellow daisies hint at innocence, the white and purple petunias imply melancholy with tenderness, and the purple roses are a symbol of passion and luxury. Together they weave a colorful world of purple and green, a world full of imagination and surprise.
I believe: when the recipient of this bouquet unwraps it, she will be greeted with a feast for both the eyes and the mind. She will be overwhelmed by the colors and forms, and will feel the infinite possibilities of life. This bouquet will breathe life into her life and will open her heart to the feeling of being deeply loved.
Looking at this Purple and Green World Handmade Crochet Knit Bouquet, I can't help but be overwhelmed by the intricate and diverse beauty of this world. I thank God for giving us these beautiful natural treasures and making our lives more colorful as a result. I am convinced that if we can appreciate it, life will present us with infinite possibilities. This bouquet of flowers reminds me that we must keep a sensitive and delicate heart, always find the beauty around us, and live a wonderful life.
Material: Made of high quality brand milk cotton, the fabric is delicate and textured.
According to the characteristics of each flower, different thicknesses of yarn are selected so that each flower can be presented in the most beautiful state.
Size: about 50cm * 20cm * H12cm
Notes:* Products are pure hand crocheted ornaments, each piece will be a little different, and may even have a small thread, but this is the charm of handmade ornaments, such as those who care, please do not place an order.
* Products are made to order, there is a production cycle, the delivery period is generally 5-7 days.
* Fabric can not be completely waterproof, please ensure that hands are clean before taking. If there is a small stain can be used cotton swab with a small amount of water to do cleaning.
*Your support is the driving force of our progress, thanks for meeting.
We can speak freely about our preferences here.
We have professional sharing.We follow the principle of sharing without borders. We look forward to your participation.
| | |
| --- | --- |
| Weight | 0.5 kg |
| Dimensions | 50 × 20 × 12 cm |