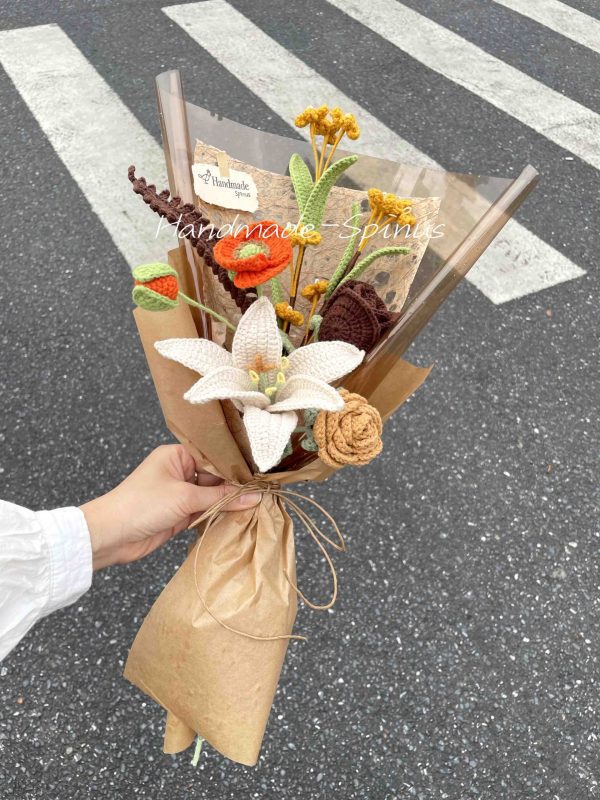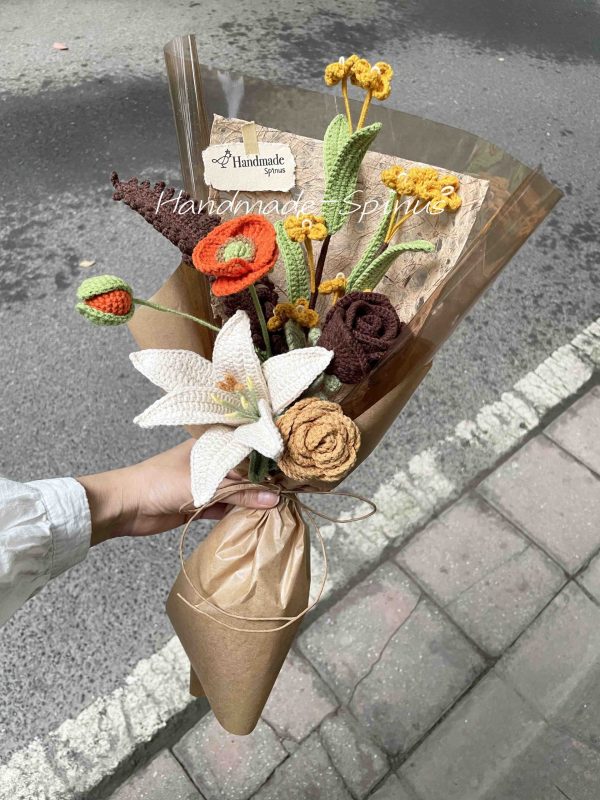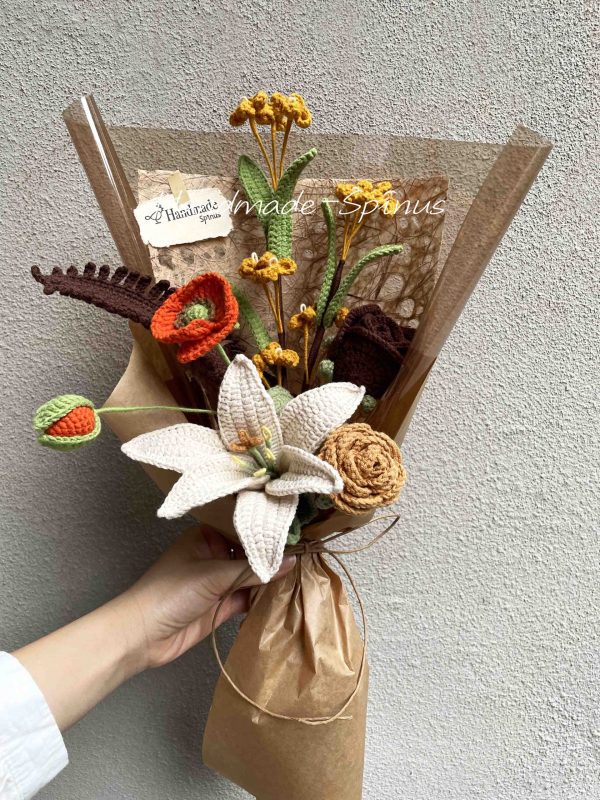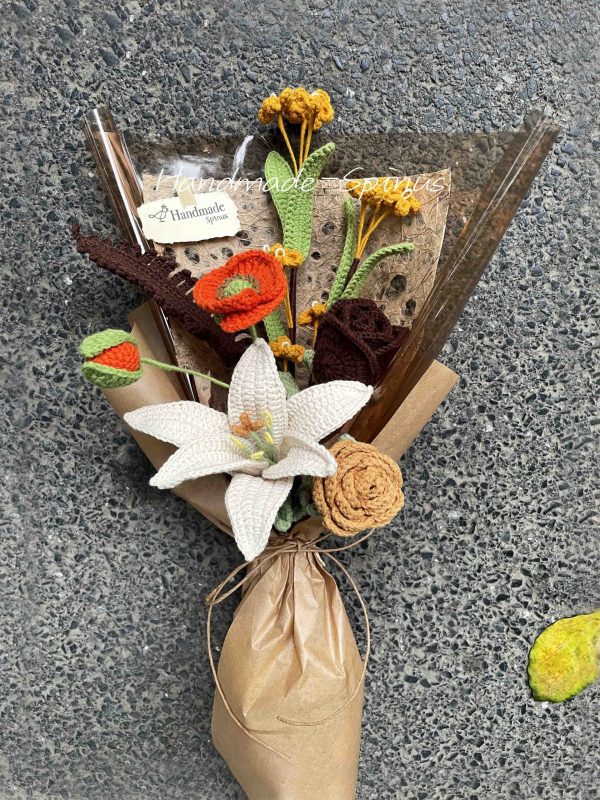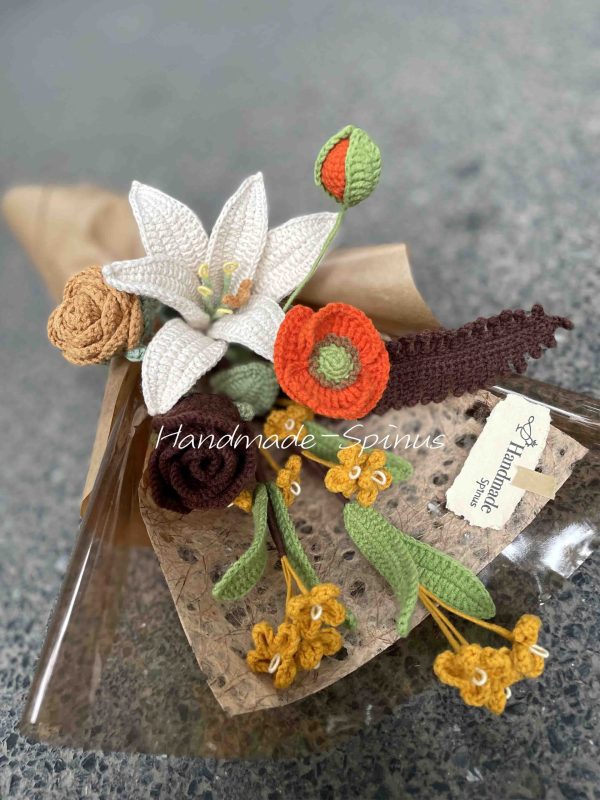 Orange Blossom Crochet Knit Bouquet
$52.00
Handmade Crochet Art
*Please register and log in first before placing an order for checkout. If you need a coupon, please contact customer service.
Orange of Autumn.
Golden color of osmanthus.
Just like my thoughts of you.
You can order on our Etsy store: Handmade-Spinus
Flower bouquets are a wonderful part of life, conveying emotions and expressing blessings, and orange bouquets symbolize warmth and vibrancy. Today, we will explore a unique bouquet that combines osmanthus, yucca, roses, lilies, and ferns to convey warmth, joy, and hope in a unique and gorgeous way.
Osmanthus, one of the traditional Chinese flowers, represents good fortune and happiness. The fragrance of its flowers is intoxicating. The orange color floral message of osmanthus conveys good wishes and a smooth future. In this bouquet, the golden yellow hue of osmanthus is embellished, infusing the whole piece with a sense of pleasure and hope.
Yume, that beautiful flower, always attracts attention with its unique color and shape. The orange color of the Eugenia represents joy and cheer, which is a feeling that puts people in a happy mood. Incorporating Yu Beauty into the bouquet not only adds layers of color, but also brings a pleasant emotion to the whole piece.
Roses, have always been regarded as a symbol of love. Orange roses convey warmth and passion and are a great way to express affection. In this bouquet, orange roses are embellished to represent warm emotions and sincere love. They intertwine with other flowers to form a picture of love.
Lilies, represent nobility and purity. Their white and orange color floral language conveys innocence and sincerity. Lilies also symbolize happiness and a bright future. In this bouquet, the orange lilies echo the other flowers, forming a beautiful harmony that not only expresses emotion, but also shows the combination of beauty and purity.
Ferns, although not a common flower, they have a unique place in the bouquet. Ferns represent the tenacity and resilience of life; they grow in the shade of the forest, yet they show resilience. Incorporating ferns into a bouquet adds variety to the overall piece and reminds people of the resilience and indomitable nature of life.
The charm of the orange bouquet lies in its bright colors and rich emotions, which bring warmth, joy and love into one beautiful experience. This bouquet not only represents the beauty of flowers, but also conveys the beauty of life and the sincerity of emotions. No matter when or where, the orange bouquet is a perfect choice to make people feel the beauty and warmth of life while expressing the most sincere blessings.
Material: Made of high quality brand milk cotton, the fabric is delicate and textured.
According to the characteristics of each flower, different thicknesses of yarn are selected so that each flower can be presented in the most beautiful state.
Size: about 50cm * 20cm * H12cm
Notes:* Products are pure hand crocheted ornaments, each piece will be a little different, and may even have a small thread, but this is the charm of handmade ornaments, such as those who care, please do not place an order.
* Products are made to order, there is a production cycle, the delivery period is generally 5-7 days.
* Fabric can not be completely waterproof, please ensure that hands are clean before taking. If there is a small stain can be used cotton swab with a small amount of water to do cleaning.
*Your support is the driving force of our progress, thanks for meeting.
We can speak freely about our preferences here.
We have professional sharing.We follow the principle of sharing without borders. We look forward to your participation.
| | |
| --- | --- |
| Weight | 0.5 kg |
| Dimensions | 50 × 20 × 12 cm |