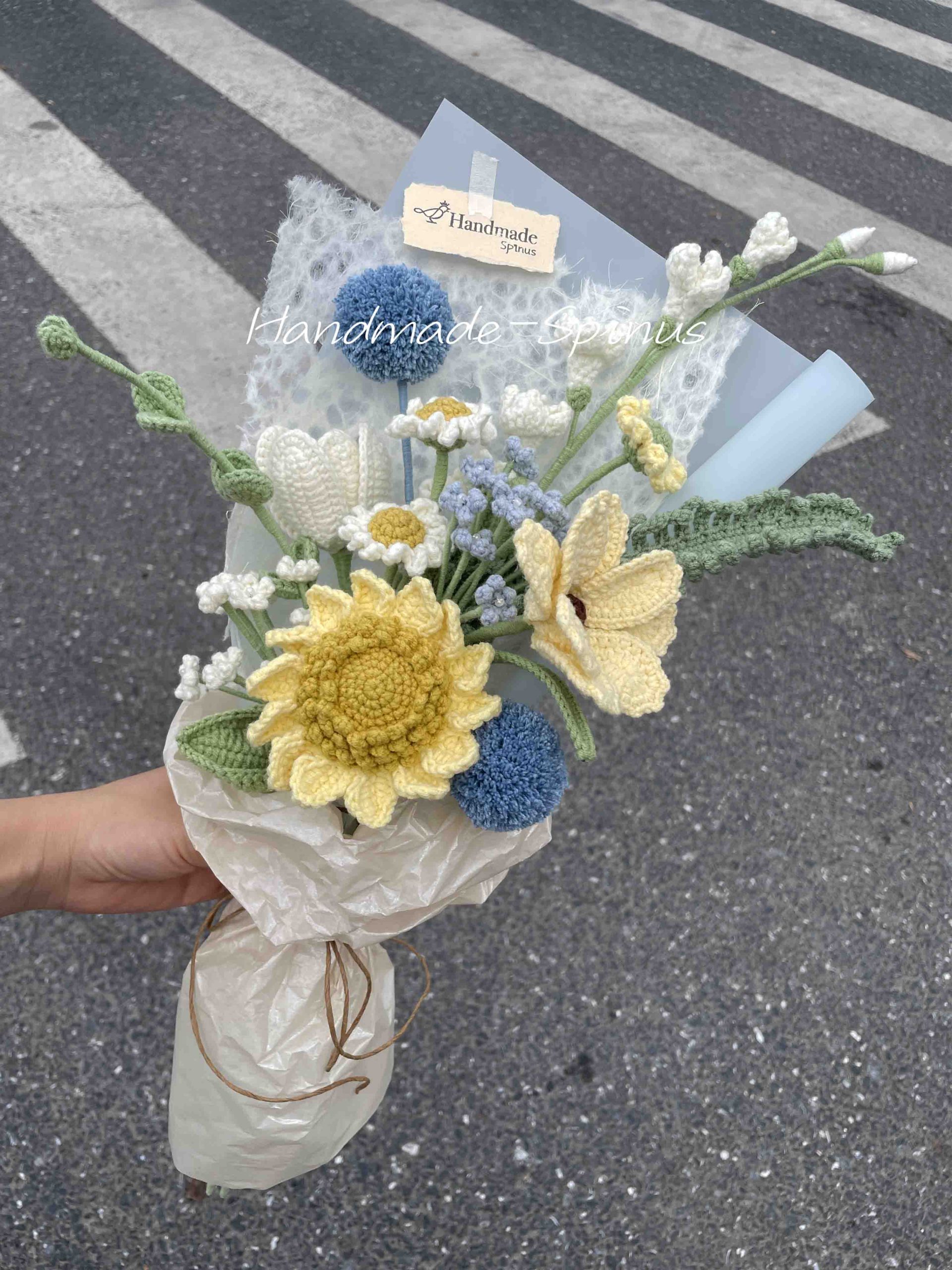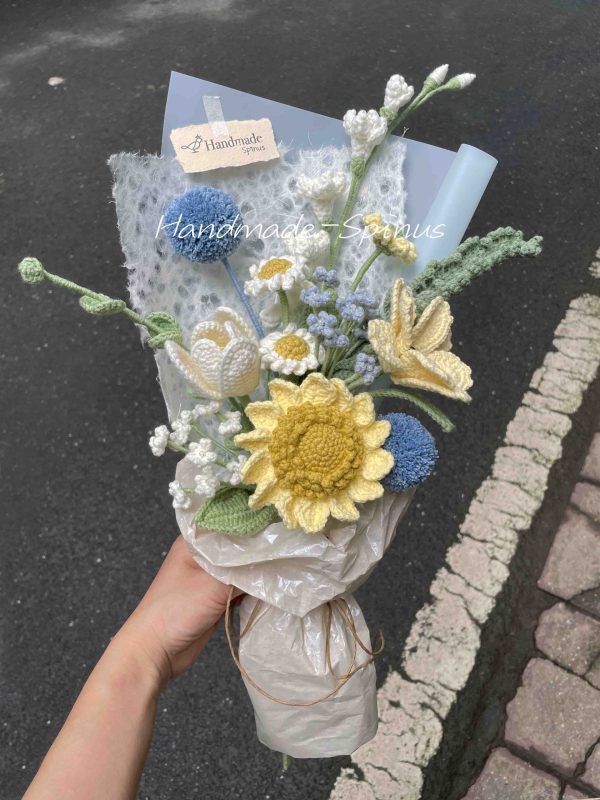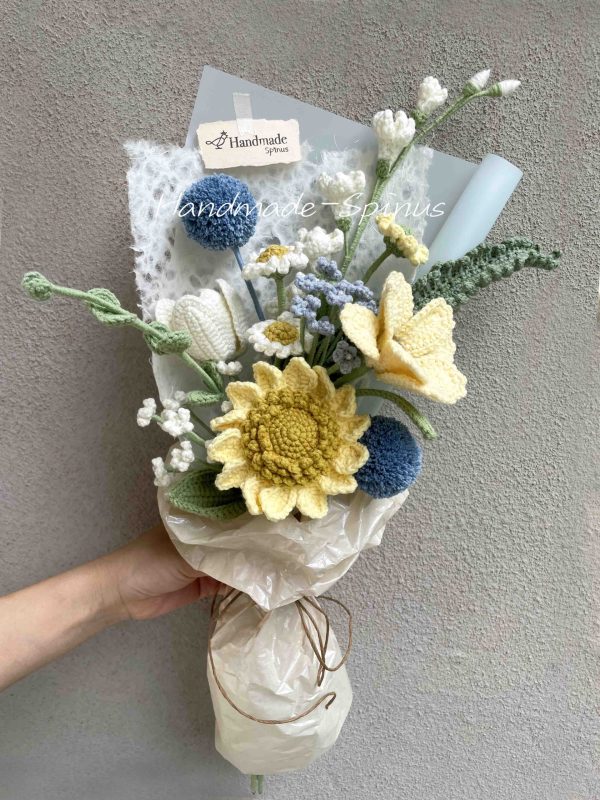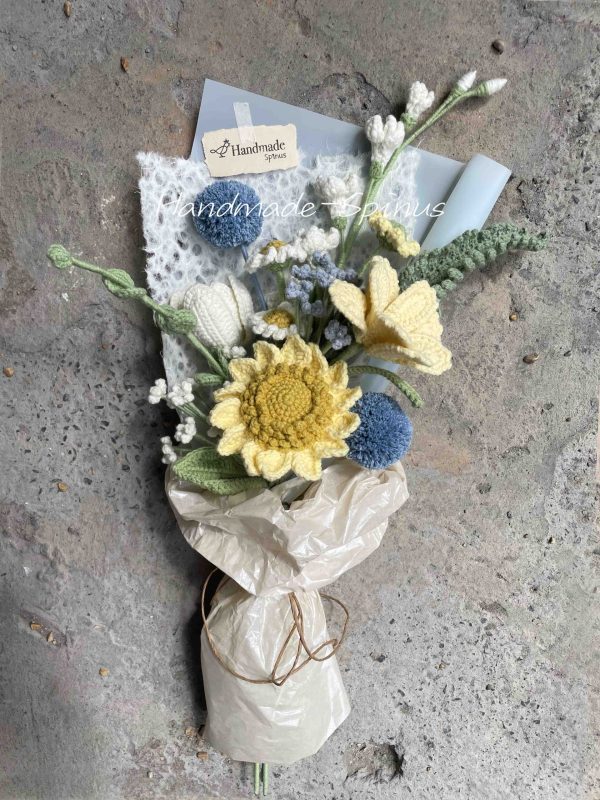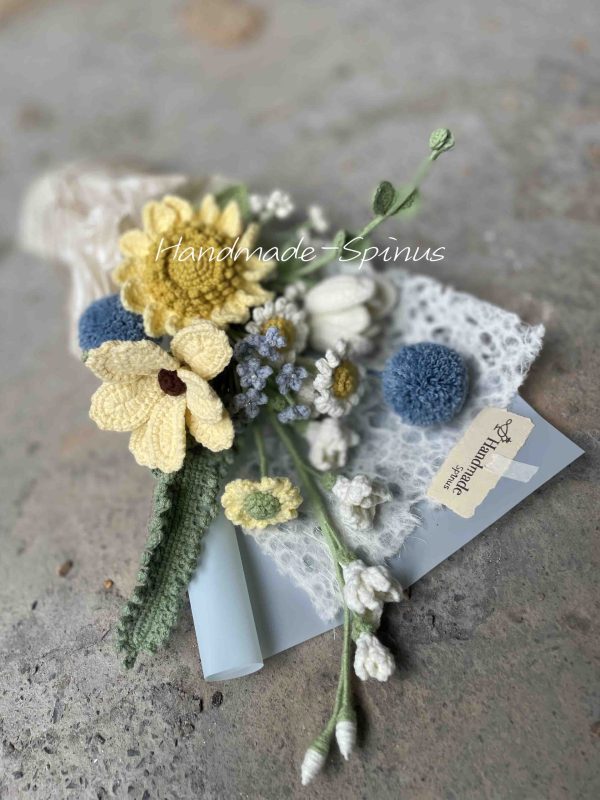 Little Cream Crochet Knit Bouquet
$70.00
Handmade Crochet Art
*Please register and log in first before placing an order for checkout. If you need a coupon, please contact customer service.
Fresh smiles.
Sweet embrace.
Elegant whiteness.
You can order on our Etsy store: Handmade-Spinus
Like a sweet little cream, this bouquet exudes innocence and romance.
Sunny sunflowers energize the bouquet. Their large golden flowers seem to smile at me and make me feel full of positive energy. Complementing the sunflowers are the creamy yellow gerberas, their fluffy, elegant hues reminiscent of the soft fragrance of a special cream. These two blooms intertwine as if in a warm, sweet embrace.
Contrasting with the creamy yellow flowers are a few blue and white stargazers. These flowers are small and delicate, but have a determined vitality. They brighten up the bouquet and add an air of liveliness to the whole. The daisies, which are the base of the bouquet, create a sense of innocence by connecting the various elements with their small, white, gentle flowers.
White tulips are the finishing touch to the bouquet. Their elegant and dignified stance adds a touch of grace to this sweet bouquet. Meanwhile, the soft green foliage of ferns surrounds the delicate flowers, making them feel safe and well cared for.
If this bouquet were a food, it would be a fragrant, sweet and tantalizing custard. It makes you want to eat it and taste it right away. This bouquet reveals innocence, sweetness, and warmth that is sure to make its recipient feel refreshed. No matter what kind of mood she is in, this little bouquet of cream flowers will melt away her worries and bring her long-lost happiness and comfort.
I can't help but visualize what kind of occasion this little cream bouquet would be for. It's perfect for a sunny weekend morning with a breakfast tray full of hot treats for a loved one. Or on a slowly darkening dusk with a cup of luscious hot cocoa to warm a cold winter night under a blanket. Whatever the moment, this little cream handmade crocheted knitted bouquet will be overflowing with happiness.
Material: Made of high quality brand milk cotton, the fabric is delicate and textured.
According to the characteristics of each flower, different thicknesses of yarn are selected so that each flower can be presented in the most beautiful state.
Size: about 50cm * 20cm * H12cm
Notes:* Products are pure hand crocheted ornaments, each piece will be a little different, and may even have a small thread, but this is the charm of handmade ornaments, such as those who care, please do not place an order.
* Products are made to order, there is a production cycle, the delivery period is generally 5-7 days.
* Fabric can not be completely waterproof, please ensure that hands are clean before taking. If there is a small stain can be used cotton swab with a small amount of water to do cleaning.
*Your support is the driving force of our progress, thanks for meeting.
We can speak freely about our preferences here.
We have professional sharing.We follow the principle of sharing without borders. We look forward to your participation.
| | |
| --- | --- |
| Weight | 0.5 kg |
| Dimensions | 50 × 20 × 12 cm |